UPDATE: 50 years for pair in Kaluza case
The Kaluza Verdict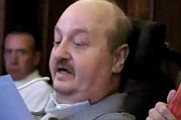 Video
Trial against Hattie Gilbert and Taran Helms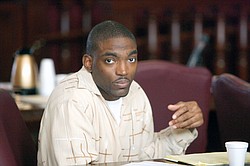 Gallery
Suspects found guilty in the March 24 robbery and shooting of KFC manager Joseph Kaluza
YOUNGSTOWN — Joseph Kaluza wheeled himself down the hallway in the Mahoning County Courthouse to the applause of friends, family and supporters.
"I can always move on, but I'll never forget anything," the former KFC manager said after the sentencing this morning of the couple convicted of shooting and leaving him paralyzed.
Judge Timothy E. Franken of Mahoning County Common Pleas Court sentenced Taran Helms, 23, and Hattie Gilbert, 20, each to 50 years in prison, the maximum sentence.
A jury convicted Helms last week of attempted murder, aggravated robbery, felonious assault and kidnapping, all with specifications that a gun was used. Jurors convicted Gilbert of complicity to all of the same offenses.
Gilbert planned the robbery and bought the bullets and Helms shot Kaluza and robbed him of the restaurant's $300 bank deposit.
The crime forever changed Kaluza's life, he said.
"My son, Josh, can't understand why his dad can no longer tuck him in bed at night," Kaluza said.
His daughter, Tiffany, 12, "wants her dad to hug her back and she doesn't understand why he can't," he said.
Helms said nothing during this morning's proceedings while Gilbert apologized to Kaluza and his family, the community and her family.
For details, see Wednesday's Vindicator or www.vindy.com.