Biden assails GOP at Youngstown rally
Biden In Youngstown

Gallery
Joe Biden speaks in Youngstown Sept. 18, 2008
Biden's downtown rally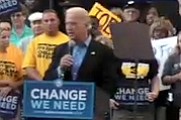 Video
By SHELBY SCHROEDER
The candidate called the GOP ticket 'profoundly out of touch.'
YOUNGSTOWN — Sen. Joe Biden called on Valley voters to end American anxiety by putting Barack Obama in the White House in November.
Mayor Jay Williams introduced the Democratic vice presidential nominee to a downtown crowd of about 1,200 Thursday evening at 20 Federal Place (the former Phar-Mor building). The mayor warmed up the crowd for Biden's appearance by questioning the qualifications of Biden's Republican opponent, Alaska Gov. Sarah Palin.
Making light of Palin's mayoral duties in the small Alaskan town of Wasilla, Williams said its entire population could fit into Youngstown's Chevy Centre, and certainly hasn't prepared Palin for the job of vice president.
"We need someone with real world experience who is ready to lead at a moment's notice," said Williams, who also touted the Biden crime bill as an example of the senator's acknowledgment of city police shortages.
Speaking from a stage full of union workers, firefighters and educators, Biden first excused his 20-minute tardiness then jumped immediately into criticism of the Bush administration.
"Eight years ago a candidate said he was going to be different. He said he'd bring back honor and integrity to the White House. You all saw how that story ended," Biden said.
"The wealthy and powerful have a seat at the table [while] the rest of us are on the menu," he added.
Biden went on to outline his and Obama's agenda for America in the next four years, beginning with the current housing crisis.
He called for a reduction in home foreclosures and the reinstatement of power by states' attorneys generals to sue fraudulent lending institutions.
On the issue of a waning American work force, Biden said he and Obama would help create 5 million jobs by retooling the auto industry and putting $15 billion a year into renewable energy production.
One way to fund these projects, Biden said, is "by not providing tax cuts for the wealthiest companies in the world."
He also proposed investing more into the middle class by giving Americans the same health-care plan as congressional members get, and by making college affordable through tax credits.
He contrasted the Democrats' value of working Americans to McCain-Palin policies that he said prove the Republicans to be "profoundly out of touch."
"They don't understand the problems of Youngstown," he argued.
Biden's speech did not exclude an issue that comes a close second to the economy for Ohio voters: the war in Iraq.
He criticized Republican support of the costly rebuilding effort overseas, blaming Bush and McCain for helping nourish Iraq's $80 billion surplus.
"We will end this war," he said. "We will end it honorably, but we will end it."
He told the crowd that Obama offered a "stark" difference in merit and ethics that could change politics in America.
"This country deserves more than a brave soldier," he said of Mccain. "It needs a wise leader."
In response to a speech Biden gave in Akron earlier Thursday, McCain-Palin spokesman Ben Porritt called Biden and Obama "earmark addicts."
"The Obama-Biden plan is a failed and backward economic scheme that will kill jobs and further hinder our economy," Porritt said.
But at the rally in downtown Youngstown, Biden pointed to the country's plunge into the enormous deficit created during the Bush administration. He warned that after eight years of a Republican president, the country should know what to expect.
"We've seen this movie before," Biden said, adding a warning against continued GOP rule, "And everyone knows the sequel is worse than the original."
sschroeder@vindy.com