Paul Moracco left the fair board April 25 after 37 years of service.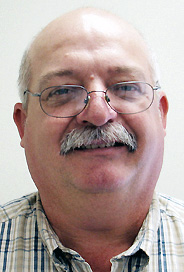 Photo
By Denise Dick
Paul Moracco left the fair board April 25 after 17 years of service.
CANFIELD — Former township Trustee Paul Moracco quit his Canfield Fair job after a police investigation revealed financial irregularities in a fairgrounds vehicle storage program that he supervised.
Several fairgrounds patrons told fair police they gave Moracco cash for storage, but didn't sign contracts — or signed them after the fact. Fair board policy requires a written contract for vehicle storage.
The number of vehicles stored without written contracts — and whether the fair was properly compensated — is not known by the fair board. Whether Moracco followed proper procedures in accounting for the money also is not known by the board.
Without contracts, there is no paper trail.
Presented with police reports and questioned by fair board members, Moracco resigned in April. A separation agreement with the fair board gave him $3,680 for "lump sum consideration" as he departed.
The police investigation didn't produce criminal charges, and fair officials don't allege criminal activity occurred, said Atty. Mark Fortunato, who represents the fair board. "There were just irregularities in the procedures," he said.
Moracco, 56, left fair board employment April 25 after 37 years, most recently as grounds superintendent.
He'd previously said to The Vindicator that he left "to find something better and move on to the next step in my life."
James C. Evans, fair board president, said another fair board member — whom he would not identify — initially brought to his at- tention concerns with this year's vehicle storage program, which prompted police to look into the program. The fair charges people to store boats, trailers, cars, concession stands and other vehicles at the fairgrounds over the winter.
Moracco referred all questions to his Akron attorney, James McElroy, who declined to comment.
Just last week, Moracco filed a lawsuit in Common Pleas Court against the fair board, citing breach of contract and asking for more than $100,000 in compensatory damages.
The lawsuit refers to a confidentiality clause in the separation agreement — and says that by sharing the agreement, it was breached. The Vindicator in July received a copy after filing a public records request with the fair board.
"The Ohio Supreme Court has ruled repeatedly that confidentiality clauses in contracts between government and some private citizen are invalid as a matter of law," said Atty. David Marburger, who represents several Ohio newspapers, including The Vindicator.
Three police reports between March 10 and April 5 say that Moracco accepted cash payments for vehicles stored and either didn't ask the vehicles' owners to sign a contract or requested the contract after the fact.
Evans, who also is a Mahoning County Common Pleas court judge, said that the beginning of the investigation coincided with the end of the storage season when many people were removing their vehicles. With the vehicles gone, investigators couldn't compare the number of vehicles with the number of contracts — so the investigation couldn't proceed further, Evans said.
Names on these police reports were redacted by fair officials.
An April 2 report by fair police Chief Billy Arnaut and officer Terry Alexander said the chief received a call from a man and his girlfriend who said Moracco approached while the couple was removing vehicles from winter storage at the fairgrounds.
"If you are stopped by anyone on the fairgrounds and asked about a storage contract, just tell them you pay at the end after all the vehicles are removed," the caller quoted Moracco to police.
The individual told police he didn't have a signed contract with the fairgrounds for vehicle storage and would "just settle up with Paul Moracco when he would leave."
The fair board has a policy that requires a written contract for people to store vehicles at the fairgrounds during winter months. It also says that rental payment for space is due in advance.
Long-standing fair procedure in accepting payment, whether by cash or check, is for payment to be taken to the fair office along with a written contract. A receipt is to be issued and the contract placed in fair records, Evans said.
After removing his trailers from the grounds, the man said he met with Moracco to pay his bill. Moracco said: "There's some snakes around here, you better come back Monday with a check and fill out a belated contract," the man told police, attributing the statements to Moracco. "I will only charge you for four trailers stored."
The man signed a contract and provided a $620 check for the four trailers — even though he had stored five trailers and a truck at the fairgrounds.
On March 10, Arnaut and Alexander met with another man who stored concession trailers at the fairgrounds. The man told police that he parked five trailers and a truck at the grounds in October or November 2007.
The man showed police payment information indicating he paid between $500 and $800 each year for storage beginning with the 2003-04 season and continuing through this year. He paid with a check the first year. The following years were cash payments without receipts.
When Moracco "wanted [to be] paid in cash, the man questioned why the change in policy," the report said. Moracco said, "It all goes into the same pot," according to the report.
The third police report, April 13, indicates that police found two boats stored under the grandstand but could find neither storage tags nor storage contracts for them.
When police spoke to the owners, the couple told officers their daughter arranged the storage with Moracco, and they paid him $310 cash for both boats' storage.
Evans said Fortunato will review fair policies and procedures for potential changes, including the vehicle storage policy and personnel file maintenance. There was no personnel file for Moracco maintained by the fair board.
Moracco was one of about a half-dozen fair employees who work full-time, year-round at the fair. He was supervised by two fair board members who do not work full-time on the fairgrounds, the judge said.
His former duties are being performed by another fair employee.
Moracco's resignation from the fair board was followed June 9 by his resignation as a Canfield Township trustee. At that meeting, Moracco and fellow trustees William Reese and Randy Brashen discussed, in executive session, the creation of a new township position: highway superintendent and project administrator.
Moracco then applied for the new job and after interviewing four candidates, Reese and Brashen selected him.
Before his starting work July 1, though, both Moracco and the two trustees learned it would constitute an ethics violation for Moracco to accept a job he helped to create. Moracco declined the job.