Campbell's 'Alaska Rich' knows home brew

Photo
Richard Tomory of Campbell has won gold and bronze medals for his home brewed mead and hard cider. He's been brewing beer for decades.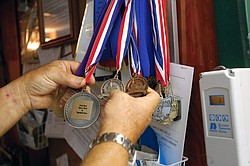 Photo
GREAT BREW: Richard Tomory has amassed an extensive collection of medals and awards for his home-brewed beer, mead and cider. The 1966 Campbell Memorial graduate, now 60, took up the hobby as a young man and was a charter member of the Great Northern home Brewers Club in Alaska, where he lived 31 years.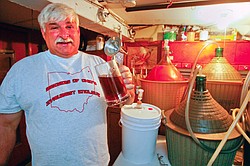 Photo
BREWMEISTER: Richard Tomory of Campbell is a prize-winning brewer who has produced award-winning beer concoctions from this nook in his basement. His 2002 mead - a honey-based alcoholic drink - took the gold medal in the annual American Homebrewers Association national competition.
National gold and bronze medals have been won for his home-brewed mead and hard cider.
CAMPBELL — The best beers are made in a microbrewery or at home, said prize-winning home brewer Richard Tomory.
He says American beer has been watered down to the point where it has lost much of its flavor. Tomory's claim might not set too well with Anheuser-Busch or Molson, but he has the credentials to back up his opinion.
Tomory, known as "Alaska Rich" because he lived in the 49th state for 31 years, has been making beer, mead and cider at home since he was a young man living in Campbell.
He now works out of a small nook in his basement, with demijohns and dripping tubes reminding one of a mad scientist's lab in an old horror film. Tomory has refined the hobby to the point where his brews regularly win at the American Homebrewers Association's national competitions.
At this year's national competition in Cincinnati, Tomory won the Bronze Medal for his apple wine (hard cider), made from crab- apples. In 2002, he won the gold medal for his mead at the annual national competition.
The 2008 competition involved 5,644 homemade brews made by 1,308 home brewers in the first round of competition. The top three entries in each of 28 categories advanced from the first round to the second and final round of competition, conducted at the AHA National Homebrewers annual conference.
In fact, Tomory has a fistful of medals and ribbons won at various Alaska and national competitions, and most recently garnered several medals at the Ohio State Fair.
Though he got his start in home brewing beer as a young man in Campbell, Tomory, now 60, got really serious about the fun after he was assigned a duty station in Alaska by the Coast Guard in the early 1970s. These days, Tomory specializes in mead, a honey-based alcoholic drink that predates beer and wine.
Tomory said he fell totally in love with Alaska and told his parents he would never come back to Ohio. But he said family illness brought him and his wife, the former Irene Rabiega of Struthers, home in 2003.
"We still plan to spend summers in Alaska," he said. Irene Tomory, a 1972 graduate of Struthers High School, is a secretary in the Corrections Division of the Mahoning County Jail. Richard Tomory is retired.
Richard Tomory, a 1966 graduate of Campbell Memorial High School, served in the Coast Guard from 1971-75. He lived in Kodiak, Alaska, while in the military and in Anchorage the rest of his years in Alaska. He was a sheet metal worker when he first moved north, having apprenticed here. Then he became involved in environmental work, inspecting for asbestos and lead-based paint, and for contaminated soil around underground fuel storage tanks.
He was a charter member of the Great Northern Home Brewers Club, formed in 1985, when it became legal to home-brew in Alaska. He considers the Great Northern Home Brewers Club members as his main competition at the nationals.
"I don't feel bad when I get beat by one of those guys. We had seven microbreweries start out of that club," Tomory said with pride.
In Ohio, he is a member of the Brewers of Ohio Zymurgist Enclave (BOOZE), which meets monthly at members' homes or at Billyd's Homebrew and Wine Supplies on Mahoning Avenue in Austintown.
"We're up to about 20 to 25 members, many of whom have become very good home brewers," Tomory said.
In 2007, BOOZE had five entries that made the national competition. Three were Tomory's two meads and a speciality cider. Other BOOZE members whose brews made the nationals are Dale Handal and Geoff Wan. The AHA competition is the largest home-brew competition in the world, said Tomory, who since 2003 has made it through the first round at nationals with two first places, two second places and two third places.
BOOZE members who competed in the 2008 Ohio State Fair Homebrewing Competition came away with 12 awards, including three gold medals, four silver medals, two bronze medals and three fourth-place ribbons, said the group's president, David Szakacs of Lordstown.
"Our club's purpose is to promote the responsible enjoyment and brewing of fine beer in the Mahoning Valley and encourage anyone wishing to join us in our quest for 'good beer' to contact us at boozebrewers@aol.com. It's a great hobby and a bunch of great guys," he said.
To promote home brewing, the club has two hands-on training days a year: One is the first Saturday in May, which is National Homebrew Day; and the other is on the first Saturday in November, which is Teach a Friend to Homebrew Day.
The first rule of good home brewing is cleanliness and not exposing the brew to the open air during the fermenting process, Tomory said.
"Literally, one fruit fly will spoil the brew," said Tomory, who uses fruits to flavor his meads. The meads he is making now are flavored with peach, sour cherry, elderberry, chokecherry and golden plum.
"It takes about three years for mead to age before it can be taken to competition. The secret to winning is letting it age," he said.
That is a long time to wait to see if something spoiled the batch. It can also be expensive, Tomory said.
Mead is honey-based. It requires about 15 pounds of honey to make 5 gallons of mead, and the price of honey is going up and it is sometimes hard to find in large quantities, he said.
Mead is a mixture of honey and water that becomes 16 percent to 18 percent alcohol (36 proof) when the sugar ferments.
Beer is made by running hot water over grain, a process called mashing, to produce a liquid called wort. The wort contains the sugars that will be fermented by the brewing yeast to produce alcohol.
Unlike mead, beer is ready to drink in a few weeks. It is bottled in brown or green bottles, preferably brown, to shade it from the harmful effects of light.
"I enjoy a good beer and just like to offer everyone a good beer. And with home brew, which is 6 [percent] to 8 percent alcohol, two beers is enough," he said with a laugh.
"Good beer" has added hops, which gives it more flavor, not like the "watered-down American beer," Tomory said.
Even though he specializes in making mead, Tomory said he does not drink it — because he is diabetic.
But, he said, "I enjoy the brewing process and I enjoy the comradeship with fellow brewers."
Not surprisingly, given his love of the hobby, Tomory also likes to get people interested in learning about home-brewing.
"Homemade is always better," he said.
alcorn@vindy.com