Timebank Mahoning Watershed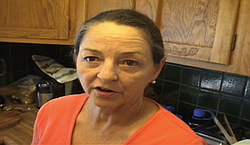 Video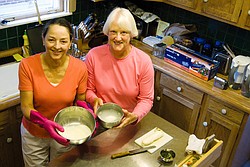 Photo
SHARED EXPERIENCE: Linda Hoefert of Youngstown, left, was taught how to make mozzarella cheese with pesto and prosciutto by Sara Scudier in Scudier's Youngstown home. Scudler belongs to the TimeBank Mahoning Valley, a "bank" that takes alternative currency in the form of good deeds tracked by time spent. Scudier deposited an hour by teaching Hoefert.
By HOLLY SCHOENSTEIN
Valley group's members invest in helping others
The barter system is based on moral relationships.
YOUNGSTOWN — Sara Scudier deposited an hour by teaching Linda Hoefert how to make mozzarella cheese with pesto and prosciutto.
Then, she will decide how to withdraw that earned hour by determining what skills or services are of interest to her.
Scudier belongs to the TimeBank Mahoning Valley Watershed, a "bank" that takes alternative currency in the form of good deeds tracked by time spent.
This bartering system, which works through moral relationships, is a pay-it-forward program that encourages community building through good deeds.
"I get enjoyment out of the sense of community," Hoefert said. "Our neighborhood is not as community-oriented as I'd like it to be."
Scudier agrees. "It's a societal thing. We've become very isolated from our neighbors. We don't have the community that watches out for each other anymore," she said.
Hubbard resident Tony Budak tried to start a similar group in 1992 but found that no one was interested.
After retiring from Delphi in 2004, he found himself juggling too many volunteer projects. So, in an attempt to focus on one project, he started the TimeBank last April.
More than 130 TimeBanks exist in the world, Budak said.
"People come together in new and exciting ways through the TimeBank marketplace," Budak said.
Although Youngstown residents Scudier and Hoefert have been friends for years, TimeBank members benefit from meeting new people.
The process is easy as long as a computer and Internet service are available as much of the communicating with other group members is done via e-mail, and it is free to join.
Budak said the purpose of the group is "about rebuilding the core economy."
"My research into this idea has infatuated me with how important this is to society," he said.
The group has about 30 members — a mix of younger and older people — and is growing. The larger the group, the more varied the skills and services will be. Members in other TimeBanks have offered services such as auto mechanics, transportation and errand-running for the elderly, and carpooling.
Taking a car to a mechanic for a tuneup can cost hundreds of dollars, depending on what needs to be done. But with the bartering system, the owner of the car supplies the equipment and tools, and the only charge is the number of hours it takes to do the work, which is deducted from the owner's TimeBank account.
"There is a huge economic benefit, especially for the mundane things," Hoefert said.
The commitment to participating in the group is as much as a member wants it to be.
After earning an hour by teaching Hoefert how to make the cheese, Scudier does not know what she will spend her hour on.
"There's nothing I really need. I have to see what's out there," she said.
But for the meantime, she enjoys earning hours.
"I think it's fun teaching people things they don't know how to do," she said.
Hoefert said she may offer to teach members how to cane the seat of a chair, meaning how to weave cane into the chair's seat.
Despite the horror stories one could imagine from a system such as the TimeBank, both Scudier and Hoefert feel comfortable and safe.
Additional requirements are mandatory for members who wish to work with children or the elderly, including background checks and references.
Because the TimeBank Mahoning Watershed is still in its infancy, the impact on the community remains unknown, but Budak hopes the group will grow enough to make a difference.
The TimeBank Mahoning Watershed meets at the Girard Free Library every second and fourth Monday.
hschoenstein@vindy.com
More like this from vindy.com