Report: Changes needed in AG office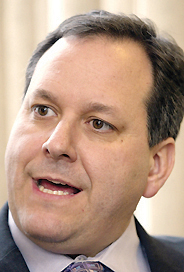 Photo
Former Ohio Attorney General Marc Dann
Dann praised the report, saying he's 'delighted' that success during his watch was recognized.
In response to sexual harassment complaints, cronyism and an unprofessional work environment when Marc Dann was attorney general, a report commissioned by his replacement calls for changes to the office structure so as not to repeat the problems.
The report, released Monday, examined a wide range of policies, procedures and practices at the office.
The report mentioned "allegations of wrongdoing or criminal activity, issues under mediation, individual personnel situations or pending legal matters" that occurred on Dann's watch. But Dann, a Democrat from Liberty, and others fired or forced to resign in the wake of a scandal at the office aren't mentioned by name in the 17-page document.
Attorney General Nancy Rogers, who succeeded Dann after his May 14 forced resignation, said the office has "implemented many crucial changes" because of the commission's examination of the department.
Among the recommendations are establishing "clear and broad criteria that can be used to objectively assess newly hired employees," and to "prohibit consensual romantic or sexual relationships between supervisors and those they supervise to avoid even an appearance of conflict."
Dann, who is married, admitted to an affair with his former scheduler.
Anthony Gutierrez of Liberty, who's also married, was fired May 2 by Dann after an internal office investigation determined that the former director of general services sexually harassed two female subordinates.
The report called for "objective criteria toward the assignment and use of vehicles, technology devices, weapons and other matters."
A separate, internal AG report, released May 2, accused Gutierrez of improperly using state-owned vehicles.
Also, the office e-mail system and hand-held electronic devices were used to send personal and sometimes sexually suggestive messages.
The report calls for responsible use of electronic devices and e-mail accounts.
Responding to the report, Dann said, "I am delighted that the committee has recognized the success that was achieved during my term in office" in certain areas.
Dann said those are: creating an objective, fair and accountable process for selecting outside legal counsel; raising the level of professionalism by increasing pay and promoting managers from within; and increasing diversity in the office.
"I think the other recommendations in the report make good sense, and I am glad the attorney general has continued to implement the policies initiated prior to May 2008," Dann said. "This report is an important public recognition of the great work done by the men and women who comprised the attorney general's office during the time that I served."
Richard Cordray, the Democratic nominee for attorney general in the November election, called the study "a very sensible set of recommendations."
Mike Crites, the Republican nominee for attorney general, said the report "is a sound first step, but it's going to take an attorney general who's committed to finishing the job he starts to restore the reputation of"' the office.
skolnick@vindy.com