Chefs serve up compassion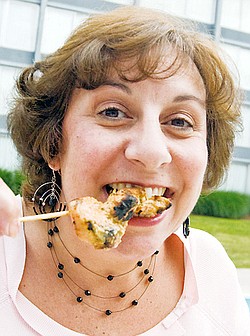 Photo
Phyllis Miller of Austintown samples Thai chicken during the fifth annual Chefs' Secrets cooking show at teh Holiday Inn MetroPlex in Liberty. Sunday's fundraiser will benefit Sojourner House of Youngstown, which provides a confidential place for women and children trying to escape and abusive situation.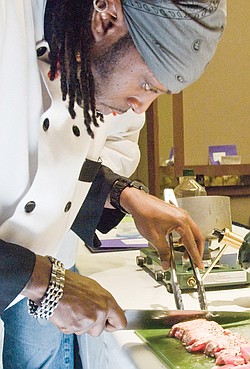 Photo
Ray Lewis of the Tapazza restaurant in Boardman slices up seared tuna.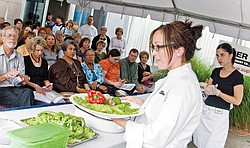 Photo
HELPFUL HINTS: Chef Gordy Lettieri of Super Suppers in the Creekside Plaza in Boardman teaches about garnishes during Chefs' Secrets cooking show.
The Food Network-style event was expected to raise $25,000 for Sojourner House.
LIBERTY — Lillian made the mistake of thinking the abuse was finally over.
After all the promises and apologies she heard, she kept making her way back to a man who abused her for nine years.
The most recent episode in April left her in a coma for six weeks, bruised and battered, with lasting physical and emotional scars. Lillian, who asked The Vindicator to use her first name only, suffered two brain aneurysms after a beating by her former boyfriend.
The mother of eight, who has permanent brain damage, sat quietly Sunday as she waited to take part in the fifth annual Chefs' Secrets fundraiser to benefit Sojourner House of Youngstown.
The shelter is helping Lillian get back on her feet, and she has a message for victims of domestic violence who are suffering in silence.
"I'm here to tell women don't go back," she said. "It doesn't get easier; it only gets worse."
About 240 people showed up to support the shelter's domestic violence program, donating their time and talent to put on a Food Network-style cooking show at the Holiday Inn MetroPlex.
Twenty-four local chefs taught classes on a variety of appetizers, salads/sides/soups, entrees and desserts. Participants learned to make specialties including prosciutto-wrapped goat cheese by Leo's Ristorante, eggplant tomato tower by AngeNetta's, hot Sicilian pasta by Gia Russa and peach pie by private chef Susan Silvashy.
TV anchor Glenn Stevens, along with Regina Reynolds, showed an audience how to make red pepper soup. The two have a cooking segment on WFMJ TV-21 and said the soup recipe came from the Internet.
"We try to make everything a little healthier," Stevens said, adding he and Reynolds "tweaked" it to their liking. She said the addition of chipotle peppers gave it an extra "kick."
Anita Koch of Youngstown attended the event with husband, Bill, and her mother, Elizabeth Reed. She said she attended for the fourth year because it was a good cause and it got her out of cooking dinner.
"We all have known people [who've been victimized]," she said. "Many of them feel like they can't get out."
Lisa McCormick of Canfield attended for the third year and said she appreciated not having to cook for husband, Greg, and children, Taylor and Alyssa.
"It's a good cause and I love cooking," she said. "They make it really fun and you learn a lot of good hints."
Jill Lewis, who owns Jill's Touch massotherapy on Mahoning Avenue, said the issue of domestic violence is close to her heart. That's why she's been volunteering her services to Sojourner House for the last few years.
"I just wanted to give back," she said. "It's a way to offer hope."
Event coordinator Nancy Flinn said she expected about $25,000 to be raised, just down from last year's $30,000. She said the economy likely contributed to the shortfall.
Sojourner House is run by Burdman Group Inc. and has an annual operating budget of $500,000, she said. Chefs' Secrets is the only major fundraiser of the year.
"We've lost a lot of funding over the years and this helps us do more," Flinn said. "We're trying to bring something different to the Youngstown area that no one else does."
Steve Fazzini Music of Youngstown provided entertainment in the ballroom while participants sampled the foods made in the classes.
Owner Steve Fazzini, who sang, said he heard about the event in The Vindicator and called organizers to offer his help.
"I thought it would be a great cause to donate to," he said. "They seem real passionate about what they do, and I wanted to do what I could on my part."
An expo area brought together several businesses to display their wares, including Pampered Chef, Grill Stones and Gift Baskets for All Occasions. Food samples were offered by Gia Russa, Great Harvest Bread, 3 Sisters Caf , G&M Sweets, Tropea's Fine Pastries, Vino Novello Winery, Ghossain's Mid East Bakery and Caribou Coffee.
The event also honored Ken McIntyre of Gia Russa as 2008 top chef. McIntyre, who was unable to attend due to illness, has participated every year in the event and auctions off a private dinner party for 12, earning thousands for the shelter over the years.
Sojourner House is a safe, confidential place for women and children trying to escape an abusive situation. Food and shelter are offered, along with opportunities to find solutions to the problems they face and to make positive changes.
With a big smile on her face, Lillian said she is forever indebted to the shelter for all they've done for her.
"They're like family," she said. "They're so welcoming."
Constance Collins, a case manager at Sojourner, said her sister, Patricia Collins, was shot several times by her husband in November 1997 at a car wash on Mahoning Avenue. Her sister, then known as Patricia Vargas, survived, but will always live with the scars, Constance said.
The problem with domestic violence, she explained, is that the abuser is almost always a victim of abuse or molestation, proving that it truly is cyclical.
"It's nice to see that so many people care," she said during the event. "There's way too much domestic violence in the Youngstown area."
SEE ALSO:Sojourner House: Fast Facts