Lewis telethon raises record $65M for MDA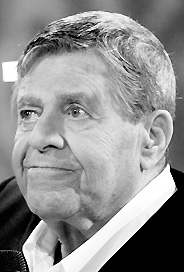 Photo
Staff/wire report
Jerry Lewis raised a record $65 million for the Muscular Dystrophy Association in his annual Labor Day telethon, including more than $300,000 in the Mahoning Valley area.
A spokeswoman for WYTV Channel 33, which broadcast the telethon in this region, said area residents pledged about $310,000 to help defeat muscular dystrophy and related diseases. Last year they pledged about $250,000.
The annual benefit also made a pitch for those inconvenienced by Hurricane Gustav.
This year's 22-hour telethon from Las Vegas added a special plea for MDA-registered families forced to leave their homes because of the hurricane, which made landfall Monday in Louisiana. The storm affected nearly 5,000 MDA families needing services in their new location, the organization said.
Lewis also urged viewers to contribute to the Salvation Army's emergency disaster services.
The 2008 haul for the 43rd annual fund-raising blitz was $1.2 million more than last year's total.
Lewis said he was prepared not to exceed the 2007 number because of the sluggish economy.
"Each year I tell myself, 'This has got to be it. There's no way we can do better.' Then, the following year, I'm astounded to see that generosity driven by love and compassion has a greater capacity than I thought possible," Lewis said. "I am awed and humbled by this response."
The freewheeling 82-year-old showman co-hosted the telethon from the South Point hotel and casino in Las Vegas. Longtime participant Ed McMahon, Tony Orlando, "Access Hollywood" host Nancy O'Dell and others shared the hosting duties. Celine Dion, 3 Doors Down, Kid Rock and Reba McEntire performed.
Along with the annual telethon, the benefit included an online auction of travel packages, electronics, sports memorabilia and other items. The auction ends Thursday.
MDA is a nonprofit organization working to defeat muscular dystrophy and 40 related diseases through research, support services and public health education.
More like this from vindy.com