As Lucky would have it, reunion's a hit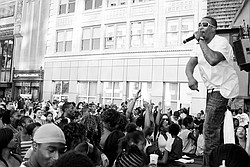 Photo
Keyland "100 Proof" Logan, 27, of Youngstown raps for the crowd at the Lucky Penny Family Reunion in downtown Youngstown.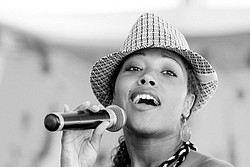 Photo
Jaunice Murray of Youngstown performed at Family Fest.

Photo
Charles "Lucky" Penny, 101.9 JAMZ radio personality. The event was sponsored by the radio station, who, Penny said, believes it has a social responsibility to give back to the community.
A 7-week-old American bulldog called Boss was likely the youngest attendee.
YOUNGSTOWN — While hip-hop music blared from speakers hung on the canopied stage, Leah Donlow snuggled into her stroller about 30 feet away and slept.
The 1-year-old Youngstown toddler didn't wake when the amplified voice of Lucky Penny, WRPB 101.9 JAMZ radio personality, filled Central Square late Sunday afternoon. She didn't stir when rapper Young Trajik's performance drew shouts and loud applause.
Leah did shift once or twice to avoid the glare of the setting sun, but those peepers stayed shut.
Her mom, Seniqua Mann, leaned against the Phar Mor building on Federal Street and just shrugged.
Who knew hip-hop had lullaby potential?
"Yeah, I'm surprised," Mann said of her sleeping daughter. "I just came for the fun and I'm not disappointed at all."
Elsewhere downtown, those attending the first Lucky Penny Family Reunion were wide awake and enjoying themselves. The "celebration of family festival" ran from 8 a.m. to 8 p.m.
Penny, aka Charles Penny Jr., flitted about like a bee as he tried to do three — maybe four — things at once. He flashed a big grin when asked about attendance at the radio-sponsored free event.
"I will say 5,000 came and went throughout the day," Penny said. "Now, you know I'm not going to say less than 5,000."
The entertainment included 20 local and five nationally known artists, Penny said. The music, he said, ranged from rap and hip-hop to R B, spoken word and gospel.
The radio station, located on Federal just west of Central Square, believes it has a social responsibility to give back to the community, Penny said. "We're here to represent. It's a Youngstown, Warren and Pa. thing."
Shirley Harris traveled from Warren to eat ribs at Buffalo Wild Wings and to hear her son, Young Trajik, aka Ricky Harris, perform. She said he has a recording contract with Screw U Records and has ringtones available from most of the well-known cell phone providers.
"This is like a back-to-school family reunion," Harris said. "It's bring your family, your cats and dogs."
Tawaina Williams, who has family in this area, traveled from Cleveland with Boss, her 7-week-old American bulldog. The puppy, likely the youngest attendee, happily accepted head scratches from passers-by.
"He's tired, it's been a long day for him. He drank two bottles of water so far — I told him he's getting expensive," Williams said with a smile. "I've been carrying him like a baby. I think he loves the music, I always play music."
Central Square, lined with a variety of booths, had a true festival atmosphere. The weather cooperated, too, with a dry warm day.
Lynn McElroy, a seventh- and eighth-grade special-education teacher in Youngstown, set up her fashion boutique booth in the shade on the square. Some of the items are from New York and California, others she makes.
She said she had the "golden girls" (mother and aunt) to help out.
The radio station, she said, did a fantastic job putting on the family event. She praised the orderliness of the crowd.
"All sides of Youngstown are here," McElroy said. "This is something Youngstown needs for its youth."
Barbara Shelton, who volunteered to work a booth for Democratic presidential nominee Barack Obama, figured she'd "kill two birds with one stone" and bring her grandkids.
Nehemiah Scott, 2, her great-grandson, and Camryn Scott, 9, her granddaughter, enjoyed munching festival food. Nehemiah ate his while sitting in a lime-green plastic wagon that his great-grandmother obligingly pulled.
Speaking of lime green: Jim Brown and Myke Clarett, both in lime-green T-shirts lettered with "Grounds Crew" on the back, said their job was to make sure Federal Street and Central Square looked as clean after the family festival as it did before the event.
meade@vindy.com