Adams' execution date set for murder of YSU student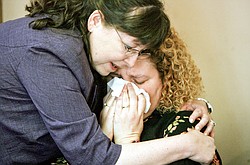 Photo
FRIEND'S COMFORT: Penny Sergeff of Ashtabula, a friend of Gina Tenney's, breaks into tears after the guilty verdict was read in the aggravated- murder trial of Bennie Adams. She is hugged by Gina's sister, Rhonda Tenney Gliva.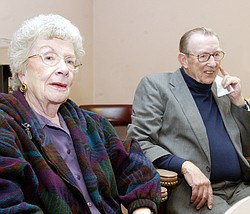 Photo
Avalon, left, and Lucian Tenney, parents of slain YSU student Gina Tenney, talk about verdict of Bennie Adams shortly after verdict on Wednesday.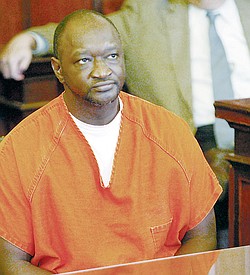 Photo
Bennie Adams sentenced to death for the 1985 murder of Gina Tenney.
It is the first death sentence imposed here in 41'Ñ2 years.
YOUNGSTOWN — Bennie Adams bettered himself by taking college courses and becoming an educational aide in prison, but he has not undergone fundamental rehabilitation, according to the judge who sentenced him to death for the 1985 murder of Gina Tenney.
"Mr. Adams, you have no remorse, and you have not accepted responsibility for your wrongdoing," said Judge Timothy E. Franken of Mahoning County Common Pleas Court, who imposed the death sentence Thursday. "Your character is not that of a rehabilitated man," the judge added.
Judge Franken set Adams' execution by lethal injection for March 2, 2009, but Dawn Cantalamessa, assistant county prosecutor, said mandatory appeals to the 7th District Court of Appeals and the Ohio Supreme Court will delay the execution beyond that date.
It was the first time a judge pronounced a death sentence in the Mahoning County Courthouse since Judge Maureen A. Cronin imposed the death penalty in February 2004 on John Drummond Jr. in the shooting death of 3-month-old Jiyen C. Dent Jr. Drummond remains on death row.
Judge Franken imposed the sentence on Adams the day after a jury of eight women and four men recommended death over three life sentence options.
The same jury had convicted Adams of aggravated murder with a death-penalty specification a week earlier.
Tenney, a 19-year-old Youngstown State University student, who was Adams' upstairs neighbor in an Ohio Avenue duplex, was strangled Dec. 29, 1985. Her frozen body was found in the Mahoning River near West Avenue the next day.
Adams, 51, was indicted in the case last year after a DNA match was found in evidence police had preserved for 22 years.
After his 2004 release from prison, where he had served an 18-year term for the rape, robbery and kidnapping of a Boardman woman, Adams got a job, took care of his mother, bought a house for his daughter, his grandchildren and himself, and led a law-abiding life, the judge noted.
The judge then added: "Over all of Mr. Adams rehabilitation hovers the ghost of Gina Tenney."
Adams did not make a statement at his sentencing.
"We feel it's an appropriate sentence in this case," Cantalamessa said after court. Prosecutors allege Adams raped, robbed and kidnapped Tenney and burglarized her apartment in conjunction with the murder.
Although the six-year statute of limitation had expired on those nonmurder charges, they became elements in support of the death-penalty specification, of which the jury convicted Adams.
"My heart is heavy," Lula Adams, 71, who resides on the city's South Side, said after her son was sentenced.
She added: "I'm a child of the King and He will carry me through. And I do believe before he's put to death, the truth will be found."
She has told city police two rocks were thrown through a window of her East LaClede Avenue home, damaging a screen the night before her son was sentenced.
The police report says the episode happened at 8:50 p.m. Wednesday. She told police she believed the rock-throwing by unknown people was linked to her son's trial.
Lula Adams asked whether there are any unanswered questions about the case and suggested prosecutors need to ask themselves whether they accused and obtained a conviction against the right person.
Lou DeFabio, the lead defense lawyer, noted after court that one of the prosecution's witnesses identified a man other than Adams from a lineup as the man she saw on the night of Tenney's death at an ATM, where Tenney's card was used.
Martin P. Desmond, assistant county prosecutor, characterized the evidence of Adams' guilt as overwhelming.
The 12-member jury that convicted Adams was all white except for one black female member, and there was one black female among the four alternates.
"Whether Gina Tenney was white or black or whether Bennie Adams was white or black, this outcome would have been the same," Desmond said. Adams is black. Tenney was white.
Desmond said there were several dissimilarities between the Adams case and that of Michael A. Davis, the young white man accused of killing six people by setting a Jan. 23 house fire, five of them black. Davis received a 310-year prison term, but not a death sentence.
Davis has a low IQ and was barely 18 when he committed his crimes, and that jury did not believe he intended to kill his victims, Desmond said.
Adams, however, was 28 when Tenney died, is intelligent, and took college courses in prison; and the jury found he intentionally killed Tenney, Desmond added.
DeFabio acknowledged the dissimilarities in age and intelligence between Davis and Adams.
But he said having just one black juror on a panel of 12 doesn't adequately represent blacks, who comprise 15.3 percent of the county's population based on the 2000 Census.
DeFabio noted that he challenged the prosecution's dismissal of two black jurors without giving a reason; but he said the prosecution then offered race-neutral reasons for excusing them, and the judge accepted those race-neutral explanations.
Their dismissal will be an issue in the appeal, he said.
milliken@vindy.com