Adams execution date set for March 2, 2009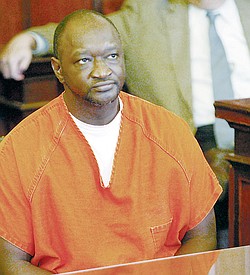 Photo
Bennie Adams sentenced to death for the 1985 murder of Gina Tenney.
YOUNGSTOWN — Bennie L. Adams is sentenced to die for the 1985 murder of Gina Tenney.
Judge Timothy E. Franken of Mahoning County Common Pleas Court imposed the death sentence this morning and set Adams' execution date for March 2, 2009.
The eight-woman, four-man jury that convicted Adams of aggravated murder with a death specification last week recommended on Wednesday that Adams be put to death.
Tenney, a 19-year-old Youngstown State University student, who was Adams' upstairs neighbor in an Ohio Avenue duplex, died by strangulation on Dec. 29, 1985. Her frozen body was found floating in the Mahoning River near West Avenue the following day.
Adams, 51, was indicted in the case last year after a DNA match was found in evidence police had preserved for 22 years.