Out-of-state dog owners claim remains of their pet
GRAPHIC PHOTOS: Kennel Raid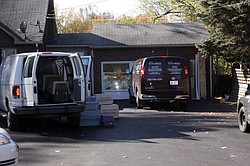 Gallery
STAFF REPORT
YOUNGSTOWN — The New York owners of a 3-year-old Rottweiler named Nitro sent him to High Caliber K-9 for obedience training with three months of food and vitamins.
Tom Siesto and Liz Raab, both 50, came to town Sunday, frantic after reading on Vindy.com about the seven dead and 12 starving dogs found at the Coitsville-Hubbard Road business last week. They also viewed graphic photos of dead and emaciated dogs on the newspaper's Web site.
Once they arrived from Queens, N.Y., the married couple's worst fears were realized.
Nitro was dead, his weight down to 50 pounds. He weighed 105 pounds when dropped off in late June.
Instead of taking home a healthy dog, they made arrangements to have him cremated. Then they found an attorney in Boardman to talk about a civil lawsuit.
The operator of High Caliber K-9, Steve Croley, 37, who resides in a house on the kennel's property, is charged with four counts of cruelty to a companion animal, and one count each of noxious odors and exterior property violation. He told a humane agent that he couldn't afford to feed the dogs.
Although Croley was originally arrested on 19 counts of animal cruelty, City Prosecutor Jay Macejko determined that Animal Charity humane agents made illegal entry on the property last Wednesday and, because of that, filed charges for only four dogs seen before agents used bolt cutters to enter the kennel area. Macejko said last week that he could have obtained a search warrant in an hour, if the agents had called.
"This is murder," Siesto said Monday. "The prosecutor is not doing the right thing."
Raab said they spoke to Croley two weeks ago — they wanted to come collect Nitro. She said Croley gave them the runaround, saying Nitro was doing well and to leave him a bit longer.
"We said OK," she said. "He was probably already dead."
She said they paid up front, more than $2,000, and provided vitamins and enough food for three months — dry and canned.
"I trusted him. We've known him two years. He was working for the place [in Canton] where we bought our dogs," Raab said. "All this man had to do was say 'help.' This was not necessary. There's no excuse. This can't be a slap on wrist. He can never own a business again. This is the most horrific thing I've seen in my life."
Humane agents, meanwhile, took the dogs from High Caliber to Animal Charity on South Avenue, hoping to get them well again and find their owners, many of whom live out of state.
More like this from vindy.com