Michael Davis Verdict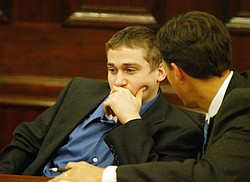 Gallery
Michael Davis verdict October 14, 2008
Davis Sentencing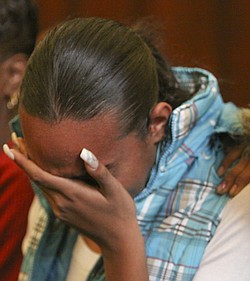 Gallery
A firefighter said the memory of that morning is recalled every time the bell strikes.
YOUNGSTOWN — Michael A. Davis didn't express remorse for killing six of his neighbors — the city's largest mass murder — and appeared unfazed when sentenced to six consecutive life terms in prison.
Davis was sentenced Monday in Mahoning County Common Pleas Court to a total of 310 years for six aggravated murders and 13 aggravated arsons. The arsons take into account the five who survived the inferno at 1645 Stewart Ave. and eight firefighters who were injured.
"No, your honor," the 18-year-old man, dressed in a peach-striped jail uniform, said when Judge R. Scott Krichbaum asked if he wished to speak. The slightly built teenager showed no emotion as he stared at the judge and those who gave victim-impact statements.
The judge said Davis "has shown no remorse, even today."
The jury that found Davis guilty last week could have voted for the death penalty. Instead, the panel recommended life in prison with eligibility for parole after 30 years for each of the six aggravated murders.
Quoting jurors, the judge said to Davis: "They believed that you really didn't mean to kill anyone."
To Davis' defense lawyers, James S. Gentile and Ron Yarwood, the judge said: "The jury viewed your client as a little boy who probably really didn't know any better."
Davis, described during the penalty phase of the trial as abused and borderline retarded, has been in custody since Jan. 23, the day of the fatal fire. Court testimony revealed that he confessed walking to the Crawford house and using an ignitable liquid to set fire to an upholstered couch on the porch at 5:30 a.m. while the family and overnight guests slept inside. The motive was a cell phone that had been stolen from him.
Carole Crawford, 46; her daughter Jennifer, 23; and Jennifer's children, Ranaisha, 8; Jeannine, 5; Aleisha, 3; and Brandon, 2, were trapped upstairs. All died.
Prior to sentencing, Judge Krichbaum heard statements from a city firefighter, four who escaped the burning house and the children's aunt.
Firefighter James Goodlet said he wishes Davis could experience what is was like for firefighters to answer the Crawfords' cries for help, to feel the heat, the frustration during efforts to find the stairway, to carry out the lifeless body of a child "again and again and again."
Goodlet said it was a deliberate, vicious, cowardly act of an arsonist. "Every time the bell strikes, we'll recall the memory of that morning," he said.
Retia Crawford, 19, who escaped the fire that killed most of her family, said Davis had always been welcomed into their home and knew little children lived there. She said she would never have thought he could do what he did to her family. She said the grave site is now where she visits her mother, sister, nephew and three nieces.
Her brother, Julius Crawford, 18, talked about his friendship with Davis and said, "I can no longer trust nobody." He asked for the maximum sentence.
Julius Crawford's friend, 17-year-old Ricky Williams, who escaped the fire, choked up as he addressed the judge. It was Williams who had taken the cell phone that served as motive for Davis to retaliate by setting the fire.
"I still love y'all," Williams said, looking back to the gallery where Crawford family members and friends sat.
Yolanda Conner told the judge that Davis has shown no remorse for his actions and she'll never be able to see her nephew and nieces become productive citizens. She called Davis a menace to society and asked for the maximum sentence for taking loved ones away.
"We're very pleased with the judge's decision, even though there's no sentence that could be given to bring our loved ones back," Conner said after court. "We accept the judge's decision."
Conner's brother, Brandon Owens Sr., fathered the three youngest children who died. He was not in court for trial or sentencing, finding it too upsetting, his family has said.
"He's trying to get his life together," Conner said of her brother.
She was not surprised that Davis had nothing to say in court. "He showed no remorse through the whole trial or today."
Prosecutor Paul J. Gains said after court the penalty was appropriate. A family, he said, was nearly wiped out.
"It's a tragedy and I hope this may cause people to think before they act, the next time they feel aggrieved," the prosecutor said.
Judge Krichbaum could have chosen to run the sentences concurrently but ordered that they run consecutively. Davis received 180 years (30 years each) for the fiery deaths and 130 years (10 years each) for the 13 aggravated arsons. He gets credit for 278 days already spent in jail.
"You got your break from the jury," the judge told Davis.
The judge said he agreed with Goodlet, that Davis was a true coward.
Noting that a lot of people feel sorry for Davis, the judge said: "I can't feel sorry for you — I don't feel sorry for you."
A low IQ and nightmarish childhood didn't give Davis a pass, the judge said, adding that showing leniency would dishonor the six people he killed.
"You should spend life in prison. I don't think you should ever get out," Judge Krichbaum said.
meade@vindy.com