Niles parade draws candy-loving kids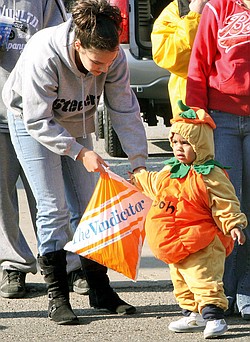 Photo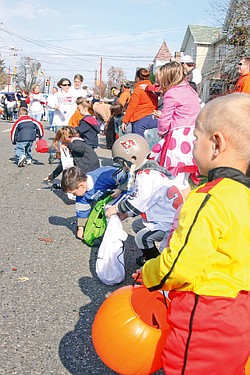 Photo
James Edison (3) on far right and many other children collect pieces of candy thrown to them at the parade in Niles Sunday October 26, 2008
The turnout for the parade increased this year.
NILES — Wee wizards, tiny terrors and small spooks crowded the streets of Niles for the city's third annual Halloween-Labor Parade.
Thousands of costumed children and their parents gathered along the snaking parade route through downtown Niles, collecting candy and musing at firetruck sirens, baton twirlers and silly clowns. Many squealed in excitement as they ran to the streets to get their hands on the candy tossed by the parade spectacles.
"Mine, mine, mine!" hollered 5-year-old Jeffrey Mizolla of Niles as he leapt toward Tootsie Rolls and hard candy near the sidewalk.
Jeffrey's mother, Samantha Mizolla, pointed out the candy he missed, giving him an upper hand among the older children.
"He's so little, you would think he'd see the candy up closer," Mizolla said.
She and husband Don have brought Jeffrey to the parade for the last three years.
"It gets a big crowd out to see and support our local unions, [and] the kids get something out of it, too," she said.
This Halloween parade is a bit atypical, as Mizolla suggested, because a co-headlining feature is the involvement of nearly a dozen local unions. Among cheerleaders, floats, and city vehicles, local members of the United Auto Workers, International Brotherhood of Electrical Workers and Service Employees International Union, among others, hoist their banners and draw in applause from parade viewers.
Parade organizer Becky Thomas said that aside from their role in the workplace, the unions play a large role in advertising the parade and gathering marchers.
At the most-crowded section of the route, on Main Street, between East State and East Federal streets, residents clambered for sidewalk space and candy grabs.
But Chandra Sears relaxed on a well-placed lounge chair and watched her children collect goodies from the sidelines.
"They can do all the work," joked the Niles resident, who held a bag to collect the earnings of her 7-year-old twins.
"Here, Mom," they chanted, dropping in treats tossed from the windows of state Sen. Capri Cafaro's motorcade.
A half-dozen politicians and candidates strolled through the parade, boosting their candidacies with little more than a week till the Nov. 4 election.
This year, Niles native David DeChristofaro, who is running unopposed for Trumbull County engineer, served as grand marshal.
Thomas said the turnout appeared larger than in previous years.
"I rode around [the parade route] to see how many people were there, and I was amazed," she said.
Sears said her twins, Joe and Kristie, would talk about the parade all night.
"They got their two favorite things today: junk food and dressing up."
sschroeder@vindy.com