Drug tests to begin for Youngstown cops, officials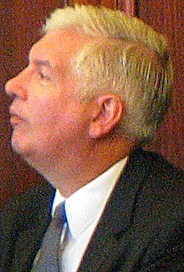 Photo
Youngstown Police Capt. Kenneth Centorame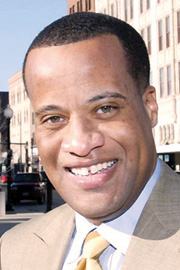 Photo
Youngstown Mayor Jay Williams
The mayor said he'll take a test whether his name is drawn or not.
YOUNGSTOWN — The mayor, law and finance directors are subject to the random drug and alcohol testing that will begin this quarter for police.
Capt. Kenneth Centorame, Youngstown Police Ranking Officers president, said the provision for random testing has been in union contracts for about 20 years, established when Patrick J. Ungaro was mayor, but hasn't been used.
Until now, tests have been done only when there was a reasonable suspicion of drug or alcohol use, he said.
Centorame said he's "absolutely" confident all officers will pass.
"We agreed to testing and support it," the captain said, noting the police unions expanded on the testing by having more drugs included and lowering the detectable amount. A Breathalyzer is used for alcohol tests and urine is used for drug tests.
Union contracts allow, on an annual basis, testing of up to 20 percent of officers for drugs and up to 5 percent for alcohol. Random selection is done by computer, he said.
Centorame said there are 66 officers in YPRO. The Youngstown Police Association has 118 patrol officers.
The union contracts include Mayor Jay Williams, Law Director Iris Torres Guglucello and Finance Director Dave Bozanich in the random selection process. Centorame said he'd like to see such testing made mandatory for them, plus all city managers and city council — "If the mayor wants to show that the city administration is drug free."
Williams said he believes in leading by example and will be the first to sign up to be tested, taking the randomness out of it. He said no one should have to worry about being tested if they're not using illegal drugs or abusing alcohol.
"I'll go right now," Bozanich said.
Guglucello said she has no problem being tested if the mayor, not Centorame, asks. She said the list of names has been submitted to an occupational medicine and testing facility in Boardman. The facility's computer will randomly pick out who will be tested and send the names to the law department, she said.
Guglucello said the cost of a drug test is $33 and the cost of an alcohol test is $25.
"Random testing hasn't been done [before] and now it's just police, not firefighters," Centorame said. "There was no explanation, just a memo."
Williams said firefighters will be tested, if not this quarter then soon after.
The mayor said he can't answer why random tests for safety forces weren't done before. "When is the right time?" he asked rhetorically.
He said all city employees are subject to some form of drug/alcohol testing when reasonable suspicion exists. Only safety sensitive positions, which include police and firefighters and those who work with children, for example, can be tested randomly, he said.
He'd like to see random testing go beyond safety sensitive employees and include those who operate heavy machinery, for example.
"If the unions want mandatory testing across the board we'll negotiate it," Williams said of Centorame's position that others be tested. "I would be happy to allow random drug testing for everyone but federal law doesn't provide for that. Now it's reasonable suspicion."
Councilman Jamael Tito Brown, D-3rd, said he doesn't see Centorame's rationale, the "do to me and I'll do to you" idea of testing outside the safety forces' union contracts.
"What's the justification? Just because you have to do it? If I was a captain I would want my officers to be drug free," Brown said. "I would say why not [test] now. It's a new day, a new direction."
Brown said police who are out arresting those who use or sell drugs have to be accountable. He said he doesn't have a union contract, as police do.
Employees who test positive are subject to discipline. If they agree to a rehabilitation program, the discipline will not exceed 30 days for the first offense. After that, the employee will be subject to random urinalysis at any time for two years.
Employees who must miss work for rehabilitation are required to use vacation or some form of paid or unpaid leave. They must then pass a return-to-duty test, the contract states. The alcohol test result must be less than 0.04 blood-alcohol concentration; the controlled substance test must be negative.
Centorame questions the cost of such tests at this time, when there are problems getting enough marked cars on the road and gas is expensive. He didn't know how much the tests will cost.
"This looks like a political experiment and we're the guinea pigs," he said. "That's the way my membership feels."
Commenting on the timing, Williams said it would be irresponsible to not do the tests, considering the recent tragic loss of a police officer. Detective Sgt. Robert Deichman, who'd had too much to drink, died in a crash in June.
"Maybe random testing might have prevented it," the mayor said. "It may cause people to make different decisions."
Williams said the cost is inconsequential when weighed against the possibility that employees could harm themselves or someone else.
meade@vindy.com