Error lessens animal-cruelty charges
Deadly Kennel Vandalized

Gallery
Steven Croley's Youngstown home on State Route 616 was vandalized following his arrest on Thursday, October 23, 2008 for several counts of animal cruelty. The festering carcasses of seven dead dogs were found in cages on the premises where Croley ran his business, High Caliber K-9. Photos by Daniel C. Britt.
GRAPHIC PHOTOS: Kennel Raid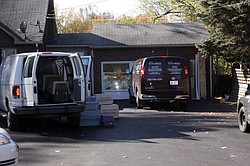 Gallery
Only four of 19 animal cruelty charges can be prosecuted against a Youngstown kennel owner.
YOUNGSTOWN — If Animal Charity humane agents had waited for a search warrant before using bolt cutters to enter High Caliber K-9 — where seven dogs died — the city prosecutor would have filed more charges against the operator.
City Prosecutor Jay Macejko said four dogs, for which 37-year-old Steven Croley is charged with animal cruelty, are the ones the agents saw before they entered the property at 1516 Coitsville-Hubbard Road on Wednesday.
In all, seven dead and 12 starving dogs were found, and Croley, who lives at the business, was originally arrested on 19 counts of cruelty to a companion animal.
Macejko, however, did not file charges related to the 15 dogs found after agents entered Croley's property with bolt cutters.
"They should have called me. I could have got a warrant in one hour," Macejko said Friday. "Saving animals doesn't mean you can prosecute."
Macejko said civilians can act to save animals in distress, but the agents, Kyle Ziegler and Joe Borosky, were acting on behalf of the state and must follow the law if they expect criminal charges to be filed.
Macejko said Ziegler and Borosky first saw one dog through a fence and weren't sure if the animal was sick or dead in the kennel area. They went next door and, from that vantage point, saw three more dogs. They then decided to enter the property by using bolt cutters, the prosecutor said.
Nikole Owen, chief executive officer at Animal Charity, wrote to Macejko on Friday, saying that her agents acted within the law and that Croley should face his original 19 counts of animal cruelty.
In a written response, Macejko said the Fourth Amendment, which guards against unreasonable search and seizure, applies to humane agents.
He said: "There was absolutely no way to justify the illegal entry that your agents conducted" and "there were no exigent [pressing] circumstances" as Owen asserted in her letter.
Owen wrote that four charges instead of 19 "is an injustice to our community and our society as a whole."
Macejko responded that the only individuals who perpetrated the injustice were her agents. He said they unlawfully intruded on a man's property and the unlawful act has sacrificed a full-scale prosecution.
The prosecutor said reports don't reflect the forced entry and that Croley repeatedly demanded to see a warrant.
"You and they further complicated the matter by turning the scene into a media spectacle. None of you had a right to escort the media around this man's property," Macejko wrote. "If you wished to hold a press conference, you would have been fully within your right to do so once the animals had been removed from the scene and secured at Animal Charity."
He said her conduct — sending letters to the mayor and reporters before they spoke — "only serves to justify my lack of faith in your agency."
The prosecutor said he learned Thursday, while researching the case, that Borosky has not been appointed by the mayor to act as a humane agent, but Ziegler has, so Borosky had no authority to act at all, other than as a private citizen.
Macejko warned Owen that if Borosky acts again without authority or enters a public building wearing a firearm under the auspices of being a humane agent, all necessary action will be taken. The prosecutor added that her agents are generally unprepared when they present cases to his office and severely need training.
"I, too, am mortified at the conditions of the High Caliber kennels, but our hands are tied by what your agents did," Macejko wrote. "Please know that Mr. Croley will nevertheless be prosecuted to the extent we are able."
He said his office will continue to make decisions absent of sympathy, emotion or bias, adding "I would strongly urge you to do the same."
Borosky said even though there was a problem with the animal-cruelty charges, "We saved the dogs, no matter what."
Croley was video-arraigned Friday in municipal court. He faces four counts of cruelty to companion animals and one count each of noxious odors and exterior property violation. Judge Robert A. Douglas Jr. set bond at $20,000, allowing 10 percent to be paid.
Croley told the judge that he can't afford to hire a lawyer because his business "has fallen under." The judge appointed an attorney to represent him.
Croley said he'd use his house in Alliance as collateral to post bond. Property records show him as co-owner of a house valued at $45,199 on High Street in Alliance.
He will be back in court Nov. 13 for a pretrial hearing. As a condition of bond, he is not allowed to own or harbor any animals.
On Wednesday, Ziegler, Borosky, Patrolman Melvin Johnson and housing officer Laura Fulmer described the odor of feces and decomposing animals in the backyard as atrocious.
The agents and officers found empty, overturned food and water bowls and the animals desperate to get out of their cages, Johnson said in his report. The live dogs were covered in feces, had matted fur and open sores, and were severely malnourished with spine and ribs protruding, he said.
Croley told Borosky that he couldn't afford to feed the dogs. He claimed ownership of 16 dogs, telling police the other three were boarded. Borosky said it's unclear how many, if any, belonged to Croley.
Four live dogs were found in the house; seven dead and eight live dogs were in the backyard kennel area. The 12 live dogs were taken to Animal Charity on South Avenue.
"The dogs are adjusting to eating again — I know that sounds funny," Borosky said Friday, explaining that because they went without food for so long, it may take several weeks before normal digestion returns.
"We can't feed too much at a time; we're doing small amounts four to five times a day. Some are having [a] hard time keeping food down."
He said donations of food and money, for which Animal Charity is very grateful, are pouring in.
The dogs are getting individual and group attention by caretakers and being walked outside, he said. Verifying ownership, he said, is difficult because several of the dogs came from out of state to be trained at High Caliber K-9.
meade@vindy.com