Cuddle & Coo Doll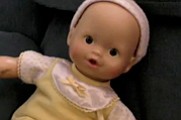 Video
Toy tries to indoctrinate children, New Castle critics say
One woman says she won't let her granddaughter play with the Cuddle & Coo doll.
BY JEANNE STARMACK
VINDICATOR STAFF WRITER
NEW CASTLE, Pa. — The Cuddle & Coo doll looks sweet and innocent.
At scarcely more than a foot long and with her cherubic infant face, she's certainly no Bride of Chucky.
But she's not as harmless as she looks, contend some people who have bought the doll, part of the Little Mommy series from Mattel's Fisher-Price subsidiary.
The doll is embedded with a recording that is supposed to resemble the babblings of a baby that hasn't yet learned to talk in sentences.
There is one word it's supposed to say: "Mama."
It says that a few times.
There's something else, though, on the recording that has no business being there, say consumers from throughout the country: the phrase "Islam is the light."
You can hear it, or something like it, after the last "mama" if you're really paying attention.
And that's got people, such as Shirley Sallmen and her daughter Shirley Baird of the New Castle area, upset enough to complain to Mattel.
"I'm scared," said Baird. "Anybody who takes this lightly, they have no common sense."
"Ever since 9/11, I don't trust anyone," said Sallmen.
Baird — whose 5-year-old granddaughter, Madison Fitzgerald, has been playing with the doll since she got it for her birthday last February — and Sallmen say they are upset enough to want the rest of the country to know about what they believe is a subliminal attempt to indoctrinate children in Islam.
There is no such plot, insists Mattel.
The company prepared a statement for its Web site to deal with the onslaught of complaints and questions. It has this to say about what the doll is really cooing: "[The] dolls feature realistic baby sounds including cooing, giggling, and baby babble with no real sentence structure. The only scripted word the doll says is 'mama.'
"There is a sound that may resemble something close to the word 'night,' 'right' or 'light.'"
"Because the original soundtrack is compressed into a file that can be played through an inexpensive toy speaker, actual sounds may be imprecise or distorted."
Sallmen and Baird, though, believe the message was deliberate.
At their home, they played the recording to accompany their point. The voice that utters the phrase, they believe, sounds different from the one that utters "mama" — as if it was added later.
The women said they never caught the phrase before last week, when they saw a television newscast that featured an upset consumer complaining about it.
"We played that baby around here and we never knew it — it's scary. It's that subliminal stuff. It's unnerving," said Baird.
Baird said she doesn't believe Mattel is responsible for the message. She believes a rogue employee added it.
Spokeswomen for Fisher-Price couldn't comment on the recording's origins. "We have our own audio studios," said Brenda Andolina. "I'm not sure where that recording was done."
Spokeswoman Juliette Reashor said there was no one available to talk about where the recording was made and who made it.
At Sallmen and Baird's home, Madison is no longer allowed to play with her doll.
With a bit of coaching, the child gave her version of what the doll should be saying: "Jesus is the light."