This doll has upset consumers and scared one local woman
Cuddle & Coo Doll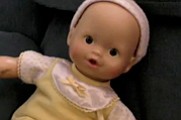 Video
NEW CASTLE, Pa. — The Cuddle & Coo doll looks sweet and innocent.
At scarcely more than a foot long and with her cherubic infant face, she's certainly no Bride of Chucky.
But she's not as harmless as she looks, contend some people who have bought the doll, part of the Little Mommy series from Mattel's Fisher-Price subsidiary.
The doll is embedded with a recording that is supposed to resemble the babblings of a baby that hasn't yet learned to talk in sentences.
But something else on the recording has no business being there, say consumers from throughout the country: the phrase "Islam is the light."
And that's got people, such as Shirley Sallmen and her daughter Shirley Baird of the New Castle area, upset enough to complain to Mattel.
"I'm scared," said Baird. "Anybody who takes this lightly, they have no common sense."
For the complete story, see Saturday's Vindicator or Vindy.com.