Undecideds: Choosing not to choose
Undecideds - Week 3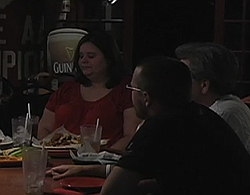 Video
The Undecideds: 5 Mahoning Valley Residents discuss their uncertainties of which future President they want in the White House; Democratic Senator Barack Obama or Republican Senator John McCain.
Some of the group's members are leaning toward Barack Obama.
BOARDMAN — "If you choose not to decide, you still have made a choice."
The line from progressive rock band Rush's song "Freewill" is a good description of the thought process of two of "The Undecideds" group, brought together by The Vindicator.
Mary Lou Hoon of Struthers, 66, and Brandi Williams of Boardman, 26, are seriously considering not voting for either Democrat Barack Obama or Republican John McCain.
"I've never missed a presidential election; I don't think I've ever missed an election" of any kind, said Hoon.
Hoon said she is "very concerned" with potential voter fraud because of those who registered and voted on the same day.
But that's not necessarily why she may not vote for president in this election.
"It's difficult to put into words," Hoon said about why she may not vote.
Williams, another member of "The Undecideds," previously went back and forth between McCain and Obama as far as who she prefers.
With Election Day upon us, Williams said she can't make up her mind.
"One of my biggest problems is I've never been so torn before," she said. "I've never had to go through that. Each week it's something different for me."
This election is so important, said Williams, who's concerned about making the wrong choice.
"I've always enjoyed voting and having my opinion out there," she said.
The other three members of "The Undecideds" haven't made up their minds but are leaning toward Obama.
Though they understand this is a difficult decision, the three said they'd never consider not voting for president.
But "I can see why some people wouldn't vote," said Greg Mook of Youngstown, 21.
"I hate politics," Mook said. "Not only do they bore me, but they annoy me."
For Larry Tropepe of Austintown, 49, the last debate between the two candidates has him favoring Obama.
That came after McCain asked Obama at their last debate why 100 percent of his campaign ads were negative when it was the other way around, Tropepe said.
"I'm wondering if McCain does have a grasp on what is really going on or is he out of touch with his political advisers, his campaign staff, all of that," he said.
Also, Tropepe said the struggling economy is impacting his decision now more than ever, and he favors Obama's economic plan over McCain's.
McCain's position on issues caused Bill Sutherin of East Palestine, 61, to lean toward Obama.
McCain's economic proposals, Sutherin said, look "after the more well-to-do, the corporations," and not regular citizens.
Also, Sutherin said he doesn't like McCain's health care plan because the Republican would cut Medicare and Medicaid to pay for a portion of the plan.
The five "Undecideds" are meeting once a week this month at the Youngstown Sports Grille in Boardman to discuss the presidential race with The Vindicator.
Their meeting next week is their last before the Nov. 4 election.
The five remain disappointed that they didn't hear "straight talk" from either candidate during the final debate.
"The Undecideds" were shown one commercial each from the campaigns and asked about them.
The Obama commercial compared McCain to President Bush, a Republican. The commercial uses a clip of McCain saying he voted with the president more than 90 percent of the time.
"It says a lot right there," Tropepe said. "It would just be four more years of the same."
Mook said campaign commercials don't affect him, but "that ad hit well on the parts I don't like about the Bush administration."
Williams, a Bush supporter, said the president shouldn't be blamed for all of the country's problems during his administration.
Though Williams said she likes the way "Bush ran things," she's "looking for a change."
The McCain campaign ad blames Obama and "congressional liberals" for voting to cut funding for troops, "increasing the risk of their lives. How dangerous."
"I didn't like the way it was portrayed because you could tell there was something missing" from a clip of Obama talking about the troops, Hoon said.
"I really think that's the problem with the people who are trying to make a choice as to who to vote for, because these ads are so misleading," she added. "They don't know who to believe."
"The Undecideds" say choosing between Obama and McCain is the most difficult decision they've ever made between presidential candidates.
"I've had my mind made up in the other ones way before this time," Sutherin said.
"I've always known by this point who was the lesser of the two evils," Tropepe said. "...We do have two very well-qualified people running. Honestly, I think either one of them could run this country extremely well."
But which one will get the votes of "The Undecideds," should they all choose to vote, remains uncertain.
skolnick@vindy.com