Injury bug bites: YSU loses two more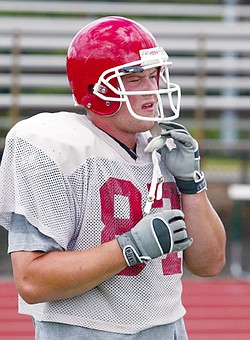 Photo
READY FOR POSITION ADJUSTMENT: Youngstown State tight end Derrick bush adjusts his helmet during practice this week at Stambaugh Stadium. YSU's tight ends will line up all over the field this season and Bush is excited about it.

Photo
By Rob Todor
"The reality of it is, you can't spend time worrying about what you don't have."
Jon Heacock
Penguins coach
Ferlando Williams and Derrick Bush were the latest casualties.
YOUNGSTOWN — Jon Heacock has never experienced a football season like this one. His wish — to never experience it again.
The bad news in a season that will be remembered more for who didn't play than who did continued for the Youngstown State program Tuesday, when it was revealed two more starters will be out for a minimum of two weeks.
Senior receiver Ferlando Williams was hospitalized Monday with what was called by Heacock as an infection in his elbow.
An athletic spokesman, though, revealed Williams has a staph infection.
Also senior tight end Derrick Bush will also miss Saturday's homecoming game against No. 4 Northern Iowa with an elbow injury.
Add two more names to the seemingly endless litany of players shelved to the injury list.
Not good news for a YSU team (2-6, 1-3 Missouri Valley Football Conference) coming off an awful 33-0 loss to Southern Illinois.
"The reality of it is, you can't spend time worrying about what you don't have," Heacock said Tuesday. "You have to focus on taking the parts you do have and putting a plan together."
That makes 23 players who have missed at least one game this season.
That includes the quarterback position, where a true freshman will start against Northern Iowa.
On Tuesday, though, Heacock wasn't sure whether it would be Dailyn Campbell, who started against Southern Illinois, or Hubbard's Marc Kanetsky, who finished up.
Campbell is listed as the starter for Saturday's game, but Heacock said he didn't practice Monday or Tuesday, and his status probably wouldn't be decided until game time.
"The thing I like about both of those guys is, they want to be the guy," said Heacock. "They both have a lot of confidence, they both believe they can do the job.
"When you tell either of them they're going in [the game] they don't have what I call the 'brook trout' look, you know, all big-eyed, like, 'Oh oh, what do I do now?'
"They both play with a tremendous amount of character and courage," added Heacock. "Any time you get thrust into that environment you have to be mentally and physically tough."
The real challenge, said Heacock, is adjusting to the speed and complexity of the college game.
"In high school they probably saw a couple different defenses in a game," he said. "[Saturday] they probably saw a couple different defenses every other play. Guys coming from all different directions, disguising coverages."
All the lineup changes have forced the playbook to be whittled down, especially on offense, to basic formations and play calls. Compounding the problem last Saturday was poor execution, especially by the offensive line.
"We're not changing a lot of plays or changing [pass] protection," said Heacock, "but because of the changes you have to do some different things. In fairness to [the lineup changes], yes. It wouldn't be fair to say that doesn't have anything to do with it."
So what becomes the focus for the final four games of the season? That's easy, said Heacock.
"Our seniors are still in there, fighting and playing," he said. "Again, the pride aspect, and trying to find a way to have success throughout the rest of the season. It doesn't get really a bunch more complicated."
todor@vindy.com