Dead, emaciated dogs found at kennel || GRAPHIC PHOTOS
GRAPHIC PHOTOS: Kennel Raid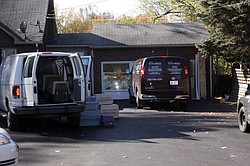 Gallery
YOUNGSTOWN — A professional sign out front belied the fact that dead and starving dogs were in the back yard of High Caliber K-9.
The business at 1516 Coitsville-Hubbard Road promotes itself as a center for dog training, grooming and boarding. It also offers "doggie day care," underground fencing, dog importing and stud service.
Kyle Ziegler and Joe Borosky, Animal Charity humane agents, went to the business Wednesday afternoon after a woman called and complained that she couldn't get her dog back from the man operating the place. The agents knocked but no one answered so they got permission to look from the next-door neighbor's back yard.
What they saw made them call police.
"We found seven dead and eight skinny, neglected dogs," Borosky said. "We're filing 15 counts of animal cruelty and animal neglect against the owner."
Records show the business is operated by Steve Croley. He was expected to be arraigned today in municipal court.
Read more in Thursday's Vindicator and Vindy.com.
More like this from vindy.com