Veteran fighter gets 12-round decision
Fight NightFans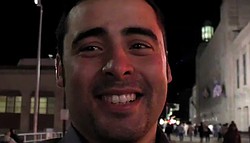 Video
Kelly Pavlik Fight Night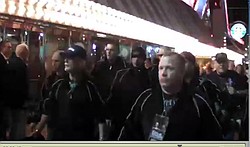 Video
Pavlik vs Hopkins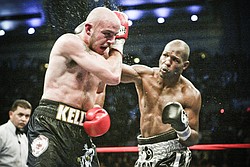 Gallery
Kelly "The Ghost" Pavlik lost to Bernard "The Executioner" Hopkins by unanimous decision in a 12-round bout Saturday October 18, 2008 in Atlantic City. Photos by William D. Lewis.
By JOE SCALZO
Vindicator sports staff
ATLANTIC CITY, N.J. — With his lip quivering but his face otherwise expressionless, Bernard Hopkins leaned up against the ropes following Saturday's bout, staring at the press contingent as he prepared to celebrate one of the biggest victories — and best performances — of his Hall of Fame career.
Five feet away, Kelly Pavlik's camp consoled the 26-year-old middleweight champion, whose rapid rise to the boxing world hit its first snag.
The official announcement was a technicality. On this night, the 43-year-old "Executioner" was too sharp, too savvy and too good at 170 pounds, earning a lopsided 12-round unanimous decision in front of 11,332 fans at Boardwalk Hall. The scores were 109-98, 108-99 and 107-100, with judge Alan Rubenstein giving Hopkins every round.
Pavlik may be the best fighter in the world at 160 pounds, but he was no match at 170.
"I just couldn't get off tonight," Pavlik said afterward. "I don't know why. It wasn't because of his slickness. I just couldn't throw more than a single jab, couldn't throw a double jab, couldn't do anything I was used to doing.
"We're going to go back to the drawing board. It just wasn't me tonight. I'm going to be more comfortable going back to 160."
After the bout, Hopkins walked over and encouraged Pavlik.
"I was a fan of yours before and I'm a fan of yours now; don't let this fight destroy you," Hopkins said, as Pavlik nodded. "You're a great middleweight champion with a great heart.
"Keep your head up, keep fighting. You've got to learn one thing. You've got to learn that slickness that black fighters have and you can really be a great champion."
Pavlik, wearing navy blue trunks with the logos of the Youngstown police and fire departments, never looked sharp and was never able to time up Hopkins' punches, nor gauge the right distance to land his powerful straight right hands.
By the third round, Pavlik's manager, Cameron Dunkin, knew it wasn't his fighter's night.
"He's dead, he's got nothing," Dunkin said then. "It's the weight. He's a middleweight. That's all."
It's the first professional loss for Pavlik (34-1, 30 KOs), whose last loss came during the Olympic trials as an 18-year-old amateur. For Hopkins (49-5-1, 32 KOs), the victory helps erase the bitter taste of two losses to Jermain Taylor and one to Joe Calzaghe
He told Pavlik he'd be rooting for him in the future.
"Keep your chin up; don't give up," he said. "If I have to go to your house and take you to the gym, I will."
The only thing Pavlik could take away is he wasn't knocked down, absorbing a lot of punches in the later rounds as blood spurted from his nose. Whenever he landed a decent jab or right to the body, Hopkins countered with a strong combination or a good overhand right.
The fight was similar to Pavlik's rematch against Taylor in February in one regard: He didn't have the same speed or snap on his punches with a heavier weight.
The fight statistics were gruesome.
Hopkins landed 172 of 530 punches (32 percent), including a whopping 49 percent of his power punches (148 of 304). Pavlik, who was widely expected to be the stronger and more active fighter, connected on just 23 percent of his punches (108 of 463), including 26 of his power punches (55 of 211).
Saturday's crowd was the biggest to see a Pavlik bout — his previous best was last September's bout against Taylor, which drew under 11,000 — and they sold 1,000 tickets on fight day.
The fight began at 11:40. Both fighters started tentatively — Hopkins probably held a small edge in that round — and the Philadelphia native took control in the second. Pavlik didn't win a round on any of the judges' cards until the 10th.
"I knew my style and quickness was underrated and was gonna give him problems," said Hopkins.
The Pavlik camp seemed to know it wasn't their night early. Between the 10th and 11th round, Pavlik's wife, Samantha, rocked back and forth at her ringside seat, clasped her hands and appeared to say a small prayer. His trainer, Jack Loew, was expressionless. His corner seemed stunned. Hopkins, meanwhile, looked fresh and confident throughout.
"I think this was my best performance," Hopkins said.
Before the fight began, Hopkins entered the ring wearing an executioner's mask, pausing to make a throat-slashing gesture to the crowd just before he stepped through the ropes.
He wasn't quite an executioner, but certainly executed.
On Saturday night, he really was the Ghostbuster.
scalzo@vindy.com