Jurors to decide life or death for man convicted in deadly fire
Michael Davis Verdict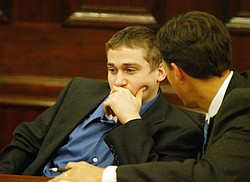 Gallery
Michael Davis verdict October 14, 2008
YOUNGSTOWN — A blue chair, sized to fit preschoolers, sits on now-vacant land where the Crawford family home turned into a flaming death trap.
Someone placed cellophane-wrapped flowers on the chair, a stark reminder that children who once plopped on it are gone.
In January, the Crawford kids — Ranaisha, 8; Jeannine, 5; Aleisha, 3; and Brandon, 2 — died in the fire at 1645 Stewart Ave., along with their mother Jennifer and grandmother Carol.
Two other Crawfords, Ratia, 19, and Julius, 18 — sister and brother, and three others managed to escape.
The blaze was deliberately set by 18-year-old Michael A. Davis at 5:30 a.m. Jan. 23.
Davis hasn't been back to his Bennington Avenue home, just around the corner, since he was arrested roughly six hours after firefighters carried the six bodies out of the gutted Crawford home. He confessed that day to detectives.
Thursday will be 10 months to the day after life ended for the victims. That's when jurors, who found Davis guilty of aggravated murder and arson in the capital case, will file back in to Mahoning County Common Pleas Court and listen to witnesses who want his life spared. The prosecution will ask jurors to reflect on trial testimony and exhibits.
Judge R. Scott Krichbaum told jurors to come prepared to be sequestered.
Autumn Brown, 20, knew all the Crawford kids, especially Ranaisha, who liked to come next door to her house at 1643 Stewart Ave. and visit while rocking on the double-chair porch swing.
"I don't know if [Davis] did it or not. I don't know who done it," Brown said. "It was messed up the way they died; just tragic."
Next to Brown, 17-year-old Ricky Williams lives with his mom. He stayed overnight at the Crawford house with his friend Julius and escaped the fire by falling out of a bedroom window. He said he'll be in court Thursday.
"I'm glad [Davis] was found guilty," Williams said from his front porch, declining to talk more. At trial, prosecutors said the motive for the fire was the cell phone Williams took from Davis and didn't return.
Williams' mom reported him missing late Wednesday night, telling police they got into an argument and he left. She quoted her son as saying he was "dead in his heart and head."