Jurors must now decide if Davis should die
Michael Davis Verdict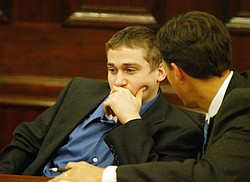 Gallery
Michael Davis verdict October 14, 2008
Six Dead in Fire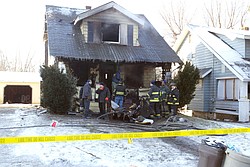 Gallery
The death penalty phase of the case is next Thursday.
By PATRICIA MEADE
VINDICATOR CRIME REPORTER
YOUNGSTOWN — Jurors who believed Michael A. Davis set a fire that killed two women and four children must now decide if he should die for the city's largest mass murder.
The jury, eight women and four men, began deliberating at 1:40 p.m. Tuesday in Mahoning County Common Pleas Court, had dinner brought in at 7:30 and reached a unanimous verdict at 8:25. The panel will reconvene Oct. 23 to hear evidence in the death penalty phase.
Retia Crawford, who survived the inferno that took the lives of her mother, sister, nephew and three nieces, joined in a big family hug after the verdicts came in. Crying, she told reporters that she didn't believe anyone else was involved in the fire, she was pleased with the outcome —"This is what we hoped" — and wants Davis put to death.
Trial testimony spanned less than two days overall in Judge R. Scott Krichbaum's court. He didn't allow jurors to take notes.
Davis, 18, of Bennington Avenue faced a total of 25 counts, six aggravated murder and 19 aggravated arson. Four duplicate counts related to the children in the original 29-count indictment were dropped. The murders carried death penalty specifications and jurors found that he acted as the principal offender, a qualifying specification.
Davis set fire to 1645 Stewart Ave. around 5:30 a.m. on Jan. 23. The arson killed six members of the Crawford family — Carole Crawford, 46; her daughter, Jennifer R. Crawford, 23; and Jennifer's four children, Ranaisha, 8; Jeannine, 5; Aleisha, 3; and Brandon, 2. All died from smoke inhalation. Five others escaped the fire.
The prosecution rested its case last Friday after calling 23 witnesses. The trial was in recess on Monday because of the Columbus Day holiday. Trial continued Tuesday with one defense witness and closing arguments from Prosecutor Paul J. Gains and James S. Gentile, one of Davis' two lawyers.
After the verdicts Tuesday night, Gains called the deaths a tragic event. He said he will offer evidence from the trial during the second, death penalty phase, next week.
Gentile had no comment on the verdicts. He said the defense will call witnesses next week from Davis' background, including family, to argue against the death penalty.
The witnesses will include a psychologist. Gentile declined to elaborate on Davis' mental capabilities, saying only that he "always struggled in school."
Prosecution witnesses established last week that Davis, angry over the theft of his cell phone by a teenage boy who was in the Crawford house when the fire started, confessed to setting the fire and acting alone; that he later said a friend, Anthony Morrow, accompanied him; that the three Davis brothers were named as responsible for a similar fire on Stewart Avenue a month before the fatal fire; that traces of an accelerant were found on the Crawford porch; that traces of an accelerant were found on Davis' shoes and pants; that Lacy, an Ohio State Fire Marshal dog trained to detect accelerants, alerted on the porch and Davis' clothing; and that a can of charcoal lighter fluid taken from a cupboard at Davis' house was processed for fingerprints but not sent to the Ohio State Fire Marshal lab for testing. There was no testimony to say whose, if any, fingerprints were found on the can.
Dr. Richard Henderson, a chemistry expert and certified fire investigator from South Carolina, was the defense's only witness on Tuesday. He said that he had concerns whether the container of charcoal lighter fluid was involved. He said he saw no results of tests and questioned, did it have a relation to the fire?
Henderson said ignitable samples taken from the burned house didn't match samples taken from defendant's clothing. He said that, with a container, it can be determined if the same components found at the crime scene are the same as on the clothing.
During closing arguments on Tuesday, Gains said Davis had been "stewing for a week" over the theft of his cell phone and that prior to the fire his brother called Julius Crawford to see if he was still awake. Julius survived the fire.
Gains said Davis knew the Crawford house was occupied and, armed with a can of lighter fluid, used it to set the porch on fire. Davis' house on Bennington is just around the corner from the Crawford house.
The prosecutor said there was some confusion in the way evidence was marked by the state fire marshal's lab but the investigation was not flawed, as the defense contended. About the charcoal lighter can not being tested, he said: "What difference does it make?; burning changes chemical compounds."
Gains told jurors that if he misstated anything, they should rely on their collective recollection of what was said during trial.
"We all feel the pain, but let us not have another tragedy," Gentile said in his closing. "What is in dispute is who did it. Probably Anthony Morrow and James Davis [Michael Davis' brother] set this fire."
Gentile said the police investigation misfired and produced the wrong person.
"Would you burn your best friend's house down over a cell phone?" Gentile asked the jury. He said two witnesses testified that Davis wasn't angry about the theft, just wanted Julius Crawford, his best friend, to get it back for him.
The defense lawyer's voice rose when he talked about the can of charcoal lighter fluid. "It sits there [in the evidence locker] 10 months until Mr. Gains says, 'Hey, bring it to my office.' It was never tested."
No footprints at the crime scene matched shoes taken from Davis, Gentile said, asking "How did he get from Point A to Point B?"
Gains called the footprints a red herring because it had been bitter cold and no snow had fallen. He said the footprints could have been made at any time.
Gentile said the investigation was shut down and police operated with a closed mind. He called it a rush to judgment.
Gains said the investigation was thorough and resulted in charges against the man who committed the crime and confessed to it.
meade@vindy.com