Church offers fun for families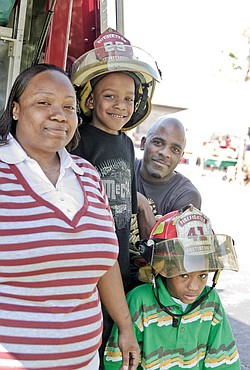 Photo
From left to right at top, Alisha, Malik, 6, and Antwon Pierece, below, Tyree, 7, Pierece attended the free Fall festival on Saturday at Idaho Road Church in Austintown.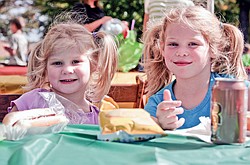 Photo
Carolyn, 4, and her sister Evelyn, 6, Engle are enjoying their food at the free Fall festival at Idaho Road Church where their father is the Pastor.
Local companies and a church gave families the chance to breathe a little easier.
AUSTINTOWN — Antwan and Alisha Pierce can relate to those looking for a little hope.
And if there's one thing most people seem to have in common these days, it's the effects of the worsening economy, the never-ending finger-pointing between presidential candidates and the growing worry over where the country is headed.
For a few hours Saturday, Idaho Road Alliance Church gave people the chance to forget the doom and gloom, instead focusing on hope. The church's first community fall festival offered music, food, beverages and entertainment, all free.
The Pierces, of Youngstown, are victims of predatory lending that caused their house payment to balloon from about $400 per month to $1,100. The house was foreclosed on two years ago but the Pierces have been able to stay there, pending a sheriff's sale.
Alisha, who is a manager at Steak n Shake in Boardman, recently had her eight-hour shift cut in half. Antwan works for Canfield Industries and said the company recently put employees on 10-hour shifts, four days a week, to help them save on gas for their commute.
The two spoke about their difficult times while sons Tyree, 7, and Malik, 6, played on inflatable bouncers donated by Sam's Amusements of Ohio.
Alisha said she was happy to have a place to take the kids that is fun and at the same time, church-based.
"It's good when you can sit and talk to people who share something in common," Antwan added.
The Pierces are members of Restoration Church in Youngstown, but festival organizers said people of all denominations are welcome.
"This is a blessing and it makes you forget about the gas prices and the politicians," said Karen Worstell of Austintown. "We need more things like this."
The free menu included DiRusso's sausage sandwiches, cotton candy, chips, cider, bottled water, coffee, tea and homemade pie.
Companies donating gift cards and items to be raffled off included Handel's Ice Cream, Pizza Hut, Eat'n Park, Wendy's and Ruby Tuesday. Richardson's Concessions also helped sponsor the event, along with private donations from church members. Games and prizes were available for kids, the Austintown police and fire departments had displays on hand, and the church's worship team provided music.
John Rossetti, festival chairman and head trustee of the church, said the corporate community came together to make the festival possible.
"The church ought to be a compassionate tool in difficult times," Pastor Phil Engle added.
Clay Johnston, one of the event's coordinators, said it was a joy to see people having a good time. "You look at the kids' faces and you see what it means to them," he added.
Brandon Caruso, 13, lives near the church and said he joined on his own and attends services and events, even when his family can't be there.
"This church is awesome and we have lots of different events," he said. "I found my own favorite religion."
Rossetti said that the 68-member congregation is happy to open its doors to the community and that a free breakfast will be offered at 9:15 a.m. Oct. 26 before the worship service, with no strings attached.