Legendary YSU coach Dom Rosselli dies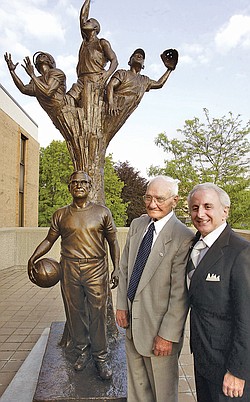 The Vindicator

Photo
Dom Rosselli with Tony Lariccia with the 12 foot 1500 pound statue dedicated to Dom Rosselli.
Youngstown State University's legendary basketball coach Dom Rosselli died early Tuesday, the school has announced on its Web site.
"The Youngstown State Department of Intercollegiate Athletics is deeply saddened to announce the passing of former men's basketball and baseball head coach Dom Rosselli, who died at the age of 93 Tuesday morning, Oct. 7, 2008," according to the Web site. "The school's winningest basketball and baseball coach, Rosselli guided Youngstown State's basketball and baseball teams for 38 and 31 years, respectively. Rosselli accumulated more than 1,000 career victories for the Red and White. He also served as an assistant football coach for 21 seasons. "
The hall of famer - both the Curbstone Coaches Hall of Fame and the Youngstown State University Athletics Hall of Fame have honored him – is survived by his wife, Connie, four children and several grandchildren.
For details, see Wednesday's Vindicator and www.vindy.com.