State Theatre razing on track, officials say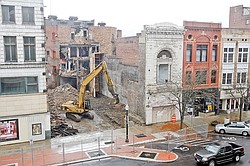 Photo
ON SCHEDULE: Demolition of the former State Theatre building continues in downtown Youngstown, making way for a center for high-tech ventures. The State Theatre was built in the fall of 1927 and was the fourth picture house to be at that location on West Feeral Street. It later served as the Agora rock nightclub.
By KATIE SEMINARA
YOUNGSTOWN — The final stages of the State Theatre demolition need to go slowly, but will still be completed on time, said development project manager Dave Kosec.
Crews are working to remove the bridge component and the rear of the theater, said Kosec at a Youngstown Central Area Community Improvement Corp. meeting recently.
The rear portion of the building is in close proximity to the Oakland Center for the Arts, thus making crews work at a reduced speed to assure no damage to surrounding structures, said Kosec.
Dec. 15 is the deadline for the demolition and remediation of the State, Armed Forces building and the Semple building, which are all part of the Tech Block project.
The Tech Block is a multimillion-dollar project being implemented by the CIC that aims to create a section of West Federal that can act as the future home for thriving technology companies.
Since the end of October, crews have demolished the Armed Forces building and fully remediated the Semple building.
During the meeting on Tuesday, the CIC approved a bid for the renovations on the Semple's fa ßade. The 90-day project costing about $228,000 will start in December and involve new brick and glass work, said Kosec.
The cost of upgrading the fa ßade is included in the finances set aside for the entire Tech Block project, he said.
Other than the State, Armed Forces and Semple buildings, only two buildings remain in the CIC's inventory of community betterment projects: the Kress building and the Wells building.
The goal is to get both buildings to a condition where a private or public entity could take advantage of the space.
The CIC wants to keep the shell of the Kress building, but demo the rotting inside, and the organization is working to get Clean Ohio funds for that project, said Kosec.
The section of Clean Ohio the CIC would use is Brownfield Revitalization, which aims to clean up and improve communities by removing buildings in disrepair to create a sense of rejuvenation.
When the Taft Technology project started, Clean Ohio was used, and Kosec said Clean Ohio has shown interest in the Kress project as well. The only hitch is that Clean Ohio has dealt only with buildings that were being completely demolished.
"I'm anticipating hearing from [Clean Ohio] next week," Kosec said, noting that he wants a written statement that says the Kress building qualifies for Clean Ohio funding before starting renovations.
More like this from vindy.com