Organizers hope Turkey Trot becomes racers' holiday tradition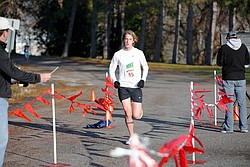 Photo
FINISH LINE: Scott Wolfe of East Palestine runs to victory at the first East Palestine Turkey Trot on Thanksgiving Day. Organizers hope to make the run an annual event.
The run is one of several activities the East Palestine chamber has initiated.
EAST PALESTINE — Paul Bostian never set out to claim any trophies a few months back when he started running with some friends.
But on Thursday, during the first Turkey Trot hosted by the East Palestine Area Chamber of Commerce, the 62-year-old was the first man in his age classification to step across the finish line at the city park.
"This is the third race I've run," he said. "I started running in September and have kept at it. I enjoy it. It keeps me active."
The retired steel worker, who typically runs 10 to 12 miles a week, joined some 150 participants during the 5K run/walk designed to benefit the national Newspapers in Education Program.
Don Elzer, chamber president, said he expects the race to become an annual event in the city.
"We were really pleased with the turnout, especially since it's new and we just decided several weeks ago to have it," he said. "We were pleased because 75 people registered in advance, but when we got here this morning, dozens more were waiting in line to register. It's something people really seem to appreciate."
Elzer said many participants traveled from outside Columbiana County to participate.
"We had people from all over: Youngstown, Boardman, from Pennsylvania," he said. "I think we also had some folks who were visiting relatives for the holiday who came out for this. We're really glad to see that. I'm expecting it to grow next year."
The Turkey Trot is one of several activities the chamber has initiated and hosted since re-establishing itself earlier this year. Chamber members have assisted with beautification efforts throughout the city and are looking to bring the summer fireworks display back to the community on an annual basis.
"I don't walk as much as I should, as much as I like to, but I wanted to do this to show some support for a good cause," said Margaret Javens, 61, of East Palestine. "I wanted to support the chamber and some of the things they're trying to do, to show some appreciation for their efforts. I'm glad to be doing this. It's an accomplishment to cross the finish line, to know you did it, no matter what."
According to preliminary results, Scott Wolfe, 19, of East Palestine, was fastest overall male participant, and the fastest overall female was Jennifer Love, 14, of Canfield. Event organizers said the final results will be released within the next few days.
"We're just glad everyone seemed to have a good time," Elzer said. "Everything went well. We couldn't have asked for it to have gone any better than it did. It gives everyone something to look forward to next year."