Dedicated shoppers play hard to fuel thrill of Black Friday
Black Friday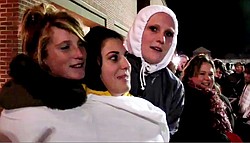 Video
Black Friday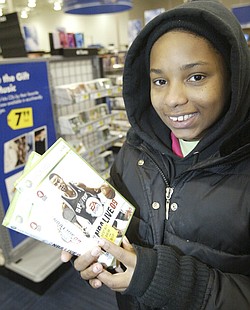 Gallery
Black Friday shoppers Boardman, OH November 28, 2008.
For some, the chase meant skipping a night's rest to be ahead of the shopping action.
By DENISE DICK
and SHELBY SCHROEDER
VINDICATOR STAFF WRITERS
BOARDMAN — Ashley and Jeramy Eckenrode of Poland powered through Target like they were on a mission.
The Black Friday shoppers arrived about 6 a.m. at the Shops at Boardman Park when the store opened and made their way through the crowds.
"We have a whole list," Ashley said, clutching the Target sales flyer.
A broom vacuum, GPS system, camera and a chair for the video gaming system made the list for Target.
They also planned to hit Circuit City and the Southern Park Mall before calling it quits for the day.
Inside from the chilly, florescent-lit parking lot of the Eastwood Mall in Niles, shoppers got an early start to their sprees. With some stores opening as early as 4:30 a.m. Friday, many were already lugging massive bags by 5 a.m.
Many Black Friday veterans explained that for them the annual event is less about the deals and more for the thrill of the experience.
"It's all about the hunt," said Tammy Johns of Howland, holding a bag of toys more than half her height.
When asked what she sought out at KB Toys, she explained, "I came for nothing and left with everything."
In fact, the toy store drew in the most people during the early shopping hours. Two employees were stationed by management to enforce the room capacity, eventually positioning velvet ropes at the store front.
"I'd like to chat, but we have to get to Target," said Johns, sprinting to the other end of the mall with her family.
At the Shops at Boardman Park, Lorie Barber of New Middletown and Sarah Yantek of Cleveland made T-shirts for the shopping occasion.
"Black Friday Maniacs" read the front while the back of Sarah's shirt said "BF niece" and Barber's, Sarah's aunt's, said "BF aunt."
They made the shirts Thursday after Thanksgiving dinner. The two, along with Sarah's mother, Nancy Yantek, also of Cleveland, arrived about 5 a.m.
It marks Sarah's first Black Friday experience.
Yantek and Barber both said the economy is affecting how they shop this year.
"It's quality instead of quantity," said Barber, the mother of three. "I hope my kids understand that there isn't as much under the tree, but they still got nice things."
By most accounts at The Eastwood Mall, attendance appeared better than previous years. Managers at Aeropostale predicted their massive markdowns will, by day's end, yield a 20 percent climb in sales from 2007. Others said said they were also impressed by the turnout.
Many said electronics accounted for their biggest sellers Friday, evidenced by stores like Radio Shack, Target and GameStop with steady lines and packed sales floors. Customers' shopping lists read like a 21st century dream list: an X-Box, GPS car unit, iPod Touch, and lots of music.
At the Boardman Target, store security was called shortly before opening to direct new arrivals who waited near the store's doors to the back of the line.
"The line's back there, the line's back there," the early arrivals chanted.
A steady stream of cars filed along U.S. Route 224, moving in and out of retail business parking lots.
Sisters Emma and Justine Lunne and Lauren Esarco, all of Canfield, huddled together wrapped in a sheet as they waited in line at Target.
"It's the thrill of the chase," Esarco said.
Justine and Emma planned to get Christmas gifts for their parents on the early morning quest. They also planned to hit the mall later.
For some, the chase meant skipping a night's rest to be ahead of the action come Friday morning.
"It's not early," said 18-year-old Kerstie Frantz of Cortland. "We've just haven't been to bed yet!"
She and her friends Samantha Reed of Mineral Ridge and Jama Soliday of Girard, both 18, said they'd all been up since as early as 8 a.m. Thursday, not catching a wink out of anticipation for their 4 a.m. trip to the Eastwood Mall. The trio sat at a cafe table outside the locked down Starbucks, seeking a fix of caffeine to keep going.
By 5:15 a.m., they'd already made their way through many of the open stores. "We need coffee — and lots of it," Frantz said.
Velvet Wade, 12, of New Castle, Pa. was the first through the doors when Best Buy in Boardman opened at 5 a.m. The line wrapped around the west side of the building.
"We got here at 6 o'clock in the morning," Velvet said — meaning Thursday morning.
She was there with her cousin Dearian Richardson, also of New Castle, and Dearian's mother, Nicole Nixon of Youngstown.
"We had our Thanksgiving on Wednesday," Nixon said.
It's worth getting up early, she said. She was able to get a laptop — hers broke earlier this year — with more memory and at a lower cost than other stores were offering.
Velvet said the group slept and played games to pass the time. She picked up two NBA Live '09 video games during her shopping expedition.
Nixon is keeping the sagging economy in mind as she shops for Christmas gifts. She buys Giant Eagle gift cards to get gasoline discounts and uses the gift cards at Best Buy.
Billy Bierlair Jr., who has worked at Best Buy for eight years, said computers, gaming systems and computer accessories are hot items this Christmas season. "The X-Box and the Playstation 3 both come bundled with extra games," he said.
The number of people who waited outside for the store to open is about the same as other years, Bierlair said.
Kathy Brocker of Canfield arrived at Best Buy at 3 a.m. trying to get a free laptop computer.
"I got here at 5 a.m. last year and I was going to get here at 1 a.m., but then I thought, that's crazy," Brocker said.
The mother of six comes to the Black Friday sales solo. "My kids are all on their 20s and teens and they think I'm crazy," she said.
Shoppers at Eastwood came for the bonus incentives too. Along with individual store goodies, like Bath and Body Works' loaded "VIP Bag" and the Macy's annual snow globe giveaway, the mall provided its first 200 customers with bags of sales and specials. "I don't really come out for the deals," said Tami Young, 27, of Newton Falls. "I'm here for the sport of it."
Young said she has come out for the last seven years for the snow globes more than anything else. "I've got a row of them that sit out year-round," she said.
Her cousin, first-timer Missy Gee, 30, of Leavittsburg, said she plans to make Black Friday shopping her new routine.
"Definitely," she said, "I'm finding a baby sitter next year!"