Blaney's career is up in the air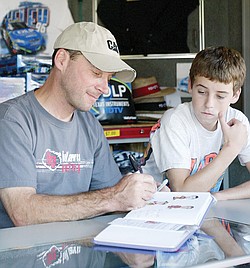 Photo
Dave Blaney signs an autograph as his son Ryan, 14, looks on at Sharon Speedway

Photo
The Hartford native has no team, but is hoping to continue racing
The NASCAR veteran believes he has several options for 2009.
HIGH POINT, N.C. — Dave Blaney knows he'll be involved in racing in some capacity in 2009, but that's speaking in general terms.
It could be in NASCAR Sprint, Nationwide or Craftsman Trucks series or it could be as overseer of his 14-year-old son's super late-model short-track activities.
Following the last of 36 Sprint Cup races at Homestead Miami Speedway on Nov. 16, the Hartford native reflected on the 2008 season, but, more painfully, gazed into auto racing's crystal ball.
"I'm ready for a break," said Blaney, who finished 31st in the owners' points standings. "I'm glad it's over."
About the only circuit he's ruled out is hot rods.
At age 46, steering a flamethrower at 200-plus mph is not an option.
The uncertainty of his place in NASCAR's top tier is utmost on his mind.
"It's hard to tell what's going to happen," Blaney said of the status of Bill Davis Racing's No. 22 team, which, following Homestead, laid off most of its employees.
"The 22 team is kind of up in the air. It doesn't have sponsorship for 2009."
If it sounds like the end, that's understandable, but the door doesn't appear to have closed completely.
"I'd love to keep going. I'd love to have a job and have it done," he said of a contract that is customarily signed by season's end. "I'm not even close to thinking about not driving, but if I don't have any opportunities, I don't have any opportunities. I'm pretty confident something will happen; I'm just not quite sure what yet."
Blaney said he'd consider the second-tier Nationwide series or Craftsman.
"I'd love to run Nationwide or Trucks with a really competitive team. That would be fun. If not, I'll will look at racing somewhere else. My son is having fun racing, so I could see myself going with him."
Like the father of a little leaguer, Blaney would be living vicariously through his son.
"He's really into it and that's the fun part — watching a young man learning fast."
BDR has three Craftsman series teams, one of which wrapped up the championship last week.
"The trucks are going strong," Blaney said, "especially with Johnny Benson winning the points title."
Mike Skinner piloted the second full-time truck and a combination of drivers shared a third.
Bill Davis will add a fourth truck team in 2009.
The last part of Blaney's 2008 season was disrupted when Caterpillar dropped its sponsorship before Bad Boy Mowers picked up the No. 22 Toyota Camry for the final two races of 2008.
Although Blaney — who's had 303 career Sprint Cup starts — had $3,456,710 in earnings in BDR's Toyota Camry in 2008, he'll spend these next few weeks pondering his next move.
Not only has the No. 22 team shifted into slow gear, but it's gone into hibernation.
"It's uncertain if it'll get a sponsor," Blaney said.
"That doesn't mean it can't get up and going. It's hard to tell what will happen."
Spending time with this son trumps any thought of returning to dirt racing.
"I've been out of dirt about 12 years. That's a long time to be out and be as successful as I was. I could do it, but the odds aren't good."
Bill Davis, whose main businesses are cattle and trucking in Arkansas, isn't the only one feeling racing's financial pinch.
"A lot of companies are sitting on their hands and careful with their money," Blaney said.
Two Dale Earnhardt, Inc. teams that finished in the top 35 face the same dilemma as BDR's No. 22: they're locked in guaranteed inclusion for the first five races of 2009 with no sponsor.
"That's tough when a top 35 team can't find any sponsorship," Blaney said.
If he found a ride with another team, Blaney would assume that new team's owners' points — whether in or out of the top 35.
"I got no ties to anybody," he said of his limbo status. "I'm open to anything."
Blaney was disappointed in his 2008 performance.
"There were a handful of good days when we were really competitive and had a good finish and another handful when we were really competitive, but had a problem and did not finish. We had more DNFs than normal.
"But there were a lot days when we were not really competitive and that's what hurts. It's easier to take the days when there's a basis for your failures."
Blaney summed up the problem of smaller teams.
"Big teams have more resources with four teams, four drivers and four crew chiefs and more cars for testing. When you have four or five teams working together they learn faster and that's the name of the game: It's how fast you learn and develop a car. It's more hit-and-miss with a smaller team."
Yet Blaney said he wouldn't trade his group of guys for any of them.
"It seems like they're [the big teams] a step or two ahead of us and it's hard to bridge that gap."
In addition to NASCAR saving money by limiting testing, Blaney said tracks should follow suit and consider lowering ticket prices for some races.
"It would be more attractive for fans to keep coming out spending money. Everybody's got to pull together to make sure we all survive."
In a media release dated Nov. 14, BDR crew chief and competition director Tommy Baldwin said there will be a full staff preparing for the start of the 2009 season.
"We have a busy winter ahead of us. We have windtunnel and seven post times scheduled and as much track testing as we can get in before the first of the year due to the new testing policy NASCAR," said the release.
"No doubt these are tough economic times and we've had to make adjustments to our work force like every other team out there, but it's still full steam ahead for our Cup team. I know everyone is working hard to make sure we show up in Daytona with everything we need and I'm confident we're on our way to getting all the pieces put into place to make our program even stronger in the future."
With his one-year contract with BDR expired, Blaney is officially a free agent.
"I'm open for next year. I'd stay with the 22 if I'm asked back or I'd look at any other options, but there aren't a lot of options out there."
A real Catch 22, if you will.
bassetti@vindy.com