Fun Flavored Fudge finds its way to TV show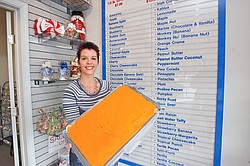 Photo
Michele Newman of Warren and just one of the many many flavors of fudge
A mother's innovative take on fudge has drawn national attention.
WARREN — A daughter's sweet tooth, a husband's help and perfect timing have turned a mother's baking passion into a successful Mahoning Valley business.
Michele Newman, a mother of four and owner of Top-Shelf Sweets n Gifts on Elm Road has changed the face of fudge nearly 160 times over.
Her wide array of kooky-colored Fun Flavored Fudge has become the delight of treat seekers around the country.
Six years ago, when her 3-year-old daughter made the strange request for "bubble gum-flavored fudge," Newman was at first baffled. But a few test batches later, her daughter Danielle was satisfied.
Newman was inspired.
A longtime aficionado and fudge expert in her social circle, she decided to run with the idea. Coming out of a recent divorce and thrust into single motherhood, Newman thought it was the ideal time to start her own business.
She would immediately captain a long line of designer fudges.
"If I wasn't a single mom, it wouldn't have been as imperative," Newman explained. "Timing was everything."
She began expanding on her creations, using her children's toy room to hold increasing back stock of ingredients and her kitchen as a laboratory.
With a vendor's license and about two years' experience working out of the home, she said the supplies began to stack up. It was time for the next step, and Newman decided to take her business to new grounds.
Remarried to Fred Newman, who owns a 19-year-old business based in Houston, she sought his advice on her new career. At his suggestion, she opted for an affordable storefront here to sell her food and merchandise goods.
Not long after, the flavors of her top-selling fudge grew in number, and Newman began to taste success while others took notice.
Fun Flavored Fudge captured attention from Inside Business and Country Woman magazines, as well as cable channel Food Network's "Roker on the Road," hosted by TV personality Al Roker.
Spawning such creative and decadent fudge flavors as blueberry cheesecake, cappuccino, rum and tiramisu, Newman's business also maintains a stock of typical flavors as well.
Along with her own shop here, she and her growing business, which has six workers, sell the treats on their own Web site and an Amazon.com store.
And now the fun-flavored fudge is available at Warren Giant Eagle on Elm Road.
Passionate about what she does, Newman won't take all the credit for her business' success. She said that without the sound financial and planning advice from her husband and the ongoing help from her staff, Top-Shelf Sweets n Gifts might not have gotten off the ground.
"We've become more of a family [and] it's not the typical employer-employee relationship," she said. "We all tend to be rowing the same oar, and I've not seen that in a lot of places I've worked."
She said that despite sometimes unforgiving economic times, her product has prospered through the added support of online business, as well as through her husband's corporate connections.
And although those connections may seem facilitated by her husband, Fred Newman said Michele is a perfect businesswoman. Alone, she has steered the company toward profit and recognition, he added.
He explained that the combination of her extroverted personality and her offering of a high-quality product makes for an easy sell to customers.
"I make the introduction, and she builds the business relationship from her side," he said.
Now at 41, with a 4-month-old baby, Newman said she is thankful for the support of her friends and family. She is always sure to mention the bubble gum fudge and her daughter, who at 3 told her, "You're mommy, and you can do anything."
"I wouldn't have done any of this if it wasn't for the children," she added. "I needed to do something for them."
sschroeder@vindy.com