Columbiana welcomes Santa Claus and friends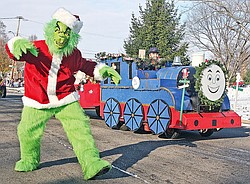 Photo
PARADE - The Christmas parade in Columbiana Saturday morning.

Photo
PARADE - Santa arrives for the Christmas parade in Columbiana Saturday morning
By Bob Jackson
Organizers said Saturday's cold weather kept some people from participating.
Top it off with Santa Claus and a few elves and it's a Christmas parade, which is exactly what they had here Saturday morning.
The Columbiana Area Chamber of Commerce had its seventh annual Christmas parade called "A Musical Family Christmas." There were more than 30 entries in this year's parade, which organizers said was about on par with last year's event.
"We started out with just a small parade seven years ago, and it's gotten a little bigger every year," said Linda Seidner, chamber director. "We would have had more [entries] this year, but with this weather, a lot of people called at the last minute and said it was just too cold to walk."
Still, there were plenty of colorful, festive entries to hold the attention of spectators both young and old, who bundled up and lined the parade route to watch.
Among them were Jennifer Burbick Rothwell, her 6-year-old son, Dalton, and her daughter, Isabella, who turns 5 next weekend. Even though their cheeks were red from the cold, the kids stood anxiously along West Salem Street with plastic bags in their hands.
"They think they're going to get candy thrown at them," Jennifer said, laughing. The kids weren't disappointed, repeatedly scrambling to the curb to pick up sweet treats tossed by parade participants.
But when The Grinch passed close by, Isabella forgot about the candy and sought safe haven behind her mom.
Besides the famous Dr. Seuss character, the parade included appearances by Frosty the Snowman, Mickey Mouse and, of course, Santa Claus, drawing shrieks of delight from children.
But in the eyes of 2-year-old Dallas Bacho of Columbiana, there was one parade entry who outshone even the jolly old elf.
"Look, it's Thomas!" he shouted, as Thomas the Tank Engine passed by.
"He loves Thomas," Dallas' mother, Christina Bacho, 23, said, pointing out that Dallas even has Thomas on his tiny tennis shoes.
Garrett Rossi, a 6-year-old first-grader from Heartland Christian School, was excited for the parade as well, but for a different reason. He, along with other Heartland pupils, was riding in a parade for the first time. The school entered a float with their portrayal of the Christmas Nativity scene, and Garrett was one of the shepherds.
Garrett said he would rather be in the parade than standing along the street watching it. "I'm cold, but it's fun," he said.
After the parade, the chamber had a full day of activities and entertainment aimed at keeping visitors downtown. Kids also had a chance to get their picture taken with Santa.