Ursuline roars into finale
Ursuline vs Liberty Union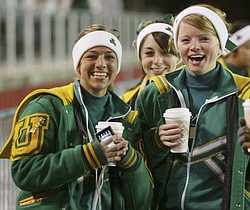 Gallery
Ursuline State semi final Nov 22, 2008
Ursuline Vs. Liberty Union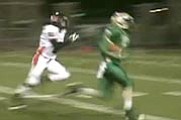 Video
By Joe Scalzo
The program was wrong.
The Ursuline Irish were the lions Saturday night, roaring into Woody Hayes Quaker Stadium in New Philadelphia with a swagger and a purpose and a certainty that Baltimore Liberty Union would be a speed bump on the parth to where they've been headed all season - Massillon.
"We don't think we're going back for nothing," said junior Jamel Turner after his Irish dismantled the Lions 35-6 in a Division V state semifinal to earn their second straight trip to the state championship game. "We're trying to do what we didn't do last year.
Since August — heck, since last December — the Irish have pointed toward next weekend, vowing to erase the memories of last year's defeat to Maria Stein Marion Local.
They've been the overwhelming favorites since the season started, but the state didn't give them any bye weeks. They earned this chance, grinding out 14 wins over 14 weeks to earn their chance.
"Oh man, it feels so good to be back in the state championship," said senior Dale Peterman, who caught a touchdown pass and intercepted two passes. "Last year that big loss left a bad taste in our mouths and this right here gives us a chance at redemption."
As they have all season, the Irish dominated with defense (Liberty Union managed just 108 total yards and had three turnovers) and their running game, with junior Allen Jones (18 carries, 158 yards) and sophomore Akise Teague (seven carries, 148 yards) leading the way.
"They have some outstanding young men and great guys up front," said Lions coach Dan Johnson, whose team was making its first state semifinal appearance. "They were hard to contain."
Ursuline (14-0), the state's top-ranked team, will play third-ranked Findlay Liberty Benton (14-0) Saturday at 3 p.m. at Massillon Paul Brown Tiger Stadium, the same site where they lost last year's game.
But the revenge won't be complete, as Marion Local lost to Liberty-Benton in Saturday's other semifinal.
"Just being back there is what it's about," Turner said. "We play who we play. Regardless of who it is, we have to win."
The Irish, who won their lone state title in 2000, were coming off a dramatic 18-17 win over Kirtland last weekend, a game that was closer than anyone outside of Lake County expected. Saturday's game was more typical of Ursuline's dominance this season — 10 of their wins have been by 10 points or more.
"After that [Kirtland] game, all the players were like, 'We can't have that,'" Turner said. "We said, 'We're gonna go out and smash them.' We all came out here with swagger and did what the coaches told us.
"They put us in the position. We made plays."
After a scoreless first quarter, the Irish scored twice in the second quarter to take control. Darrell Mason had a 1-yard touchdown run and Teague (who played the best game of his young career) added a 34-yard TD run.
Ursuline made it 21-0 on the second play of the second quarter when Paul Kempe hit Peterman in stride for a 63-yard TD, essentially ending the suspense.
Dawalyn Harper and Jones added TD runs to finish Ursuline's scoring, while Dustin Love (17 carries, 54 yards) scored the lone TD for Liberty Union (12-2).
"When you're in this position, you can't celebrate too long," said Irish coach Dan Reardon. "But don't get me wrong, it's a big, big win. Playing 15 games two years in a row is quite an accomplishment for our program.
"We'll enjoy it tonight and tomorrow and get to work on Monday."
scalzo@vindy.com