Billboard ladies keep Christ in Christmas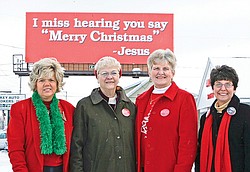 Photo
CHRIST IN CHRISTMAS - Judi Hanna - Joanne Brown - Pat See and Linda Bennet - in front of the billboard on Mahoning Ave. in Youngstown.
Five friends focus on spreading the message of Merry Christmas.
NILES — Friendship, faith and fortitude shared by five women add up to a powerful force.
The friends, all Christians, think it's important to send a simple but potent message with the wish of Merry Christmas. The concept is meaningful during this season but the women hope it stays in people's hearts year-round.
The Merry Christmas Billboard Ladies — Joanne Brown of Poland, Linda Bennett of Niles, Judi Hanna of Boardman, Laurie Kramer of Youngstown and Pat See of Canfield — are making a return engagement — just like Christmas.
They're back in a bigger way than their initial foray last year in spreading the message of Merry Christmas. Their grass-roots effort has gained momentum mostly by word of mouth.
Last Christmas season the women raised $2,800 and paid for four billboards with the messages: "I miss hearing you say Merry Christmas" and "Why have you stopped saying Merry Christmas?" Both were signed, "Jesus."
In 2008, the billboard ladies started with $1,600 in donations. In 2007 and 2008, the group collected just under $6,000 for billboards. The funds enabled them to pay for seven billboards this year with the messages: "I miss hearing you say Merry Christmas" and "It's OK to say Merry Christmas." Again, both signed "Jesus."
Location and size determines the cost of billboards, which are red with white lettering. The messages are displayed from around Thanksgiving to Christmas.
Brown explained that President Ulysses S. Grant signed a congressional bill June 28, 1870, to make Dec. 25, which the bill noted was "commonly known as Christmas Day," an official holiday. Brown pointed out this act of Congress didn't make Dec. 25 a "happy holiday" and clearly identifies it as Christmas.
The women said the idea for the billboards evolved after each one had heard and seen one too many "Happy Holidays" instead of "Merry Christmas." Bennett said Brown wondered aloud "what an individual could do" and the women came up with the idea to use billboards to spread their message.
"Holiday isn't interchangeable with Christmas," Brown said. "It's Christmas tree, Christmas cookies, Christmas carols."
Bennett pointed out that it's rather ironic that there are "Christmas in July" events and advertisements, not "holiday in July." The actual Christmas competes with happy holidays, she said.
More to the point, she noted, is a Christ-centered Christmas. "If Christ were here ... what would we say to him?" she wondered. "We would wish him happy birthday by saying Merry Christmas."
Hanna pointed out the billboards and their messages are to "feed those poor in spirit." She noted that "people want the day off, want the gifts" but are missing the reason for the season — the birth of Jesus.
"It's not a secular holiday," Bennett added. "... as Christians we have a calling to follow God's example ... he gave us his son. We need to take the Gospel message and help those less fortunate."
The women said they don't believe contributions for billboards take away from charitable donations. "We've gotten beautiful letters from people saying they were inspired by the messages," See said, noting that these contributors often mention they were inspired to help the less fortunate. "The billboards remind people what Christmas is really about ... the gifts are secondary," she said.
The women themselves marveled at the fact that the billboards have been funded mostly by small donations. Hanna said one person gave $1.50, which was what she could afford. "People donate because they support the message," said See.
Last year, some 170 contributors — individuals and groups — donated toward the billboard cause. This year, a group of sixth- through eighth-graders who are members of Fellowship of Christian Athletes at South Range Middle School in Greenford donated $150. "They had a candy sale and wanted the money to go to the billboard campaign," said Janice Stephenson, a parent and volunteer with FCA.
"FCA focuses on helping the community and empowering students to serve Christ," Stephenson said. "The students thought the billboard idea was good."
The women said they will continue the billboard project. They have spoken to church and civic groups about the effort. Their idea is spreading, as they've been contacted by a group in Albany, N.Y., that wants to use the concept.
Most of all, the five friends wish a Merry Christmas to the Mahoning Valley.
SEE ALSO: About the billboards.