Author weaves love, cultures into novel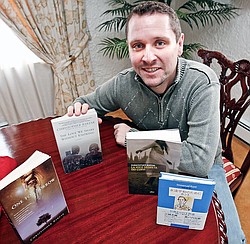 Photo
Youngstown Writer Christopher Barzak released his second novel, The Love We Share Without Knowing, published by Bantam Books.
The Youngstowner explores modern life in Japan.
YOUNGSTOWN — With a new novel about the bonds of love in Japan, author Christopher Barzak said the culture sets an example of togetherness from which Youngstown could benefit.
An area native and Youngstown State University instructor, the 33-year-old Barzak spent two years in a small suburb outside Tokyo, teaching elementary and middle school pupils English. His time as an implant in a foreign culture inspired his second novel, "The Love We Share Without Knowing."
In each chapter, Barzak illustrates a form of passion: love of country, love of self and romantic love.
"It examines these different kinds [of love] through a variety of characters," Barzak explained. "Each tell their own story chapter by chapter, [but] they're connected and influencing each other."
The author said his book is about America and Japan, and their respective virtues of commonality versus individuality, what Barzak calls "culture-shaping issues."
Those issues came to light during his stint in Japan as a newcomer with little familiarity of Japanese vocabulary or customs. He quickly found the Japanese community to be tight-knit, working as a group to achieve prosperity — a stark contrast from American life, particularly in Youngstown, he noted.
"One of the things I noticed in Japan was that the people still band together intensely and strive for there not to be infighting, but to try to make things work," Barzak said.
His host family in Japan took him to other towns that had fallen on hard times, where jobs were few and far between and residents struggled daily. He said that despite this, "They've managed in that spirit of commonality to run a tighter ship, to keep clean and safe the community they cared for.
"They might not be growing, but they're still good," he said. "I think that's something we could use even more of than we have here now."
Barzak said returning to Youngstown was the next logical step for him.
"Youngstown is the city I called home even when I lived elsewhere," he said. "I wanted to try to find a way to remain in my community, which was basically there to give me what it could as I was growing up."
Having returned from Japan in 2006, Barzak spent the better part of three years writing and revising "The Love We Share Without Knowing" — a work stylistically aligned with his previous novel: realistic with "fantastical flourishes, surreal and magical events."
He said the piece, which is set for national release Tuesday will pique the interest of any reader who finds fascinating cross-cultural depictions of life and love.
Reviews of his novel are beaming, with one critic from Publisher's Weekly describing it as "perceptive writing [that] evinces the fragile and overwhelming desire for meaning and love."
Barzak lives on the city's North Side and teaches fiction writing at YSU. He will be hitting the book club circuit in the Mahoning Valley in coming weeks to promote his novel.
sschroeder@vindy.com
More like this from vindy.com