The Christmas billboard ladies bring back their message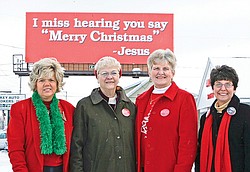 Photo
CHRIST IN CHRISTMAS - Judi Hanna - Joanne Brown - Pat See and Linda Bennet - in front of the billboard on Mahoning Ave. in Youngstown.
NILES — Friendship, faith and fortitude shared by five women add up to a powerful force.
The friends, all Christians, think it's important to send a simple but potent message with the wish of Merry Christmas. The concept is meaningful at this season but the women hope it stays in people's hearts year-round.
The Merry Christmas Billboard Ladies — Joanne Brown of Poland, and Linda Bennett of Niles, Judi Hanna of Boardman, Laurie Kramer of Youngstown and Pat See of Canfield — are making a return engagement — just like Christmas.
They're back in a bigger way than their initial foray last year in spreading the message of Merry Christmas. Their grass-roots effort has gained momentum mostly by word of mouth.
Last Christmas season the women raised $2,800 and paid for four billboards with the messages: "I miss hearing you say Merry Christmas" and "Why have you stopped saying Merry Christmas?" Both were signed Jesus.
In 2008, the billboard ladies started with $1,600 in donations. In 2007 and 2008, the group collected just under $6,000 for billboards. The funds enabled them to pay for seven billboards this year with the messages: "I miss hearing you say Merry Christmas" and "It's OK to say Merry Christmas." Again, both signed Jesus.
Read more in Thursday's Vindicator and Vindy.com