Tressel lends his voice to BWR's 'Nutcracker'
260 Federal Plaza W, Youngstown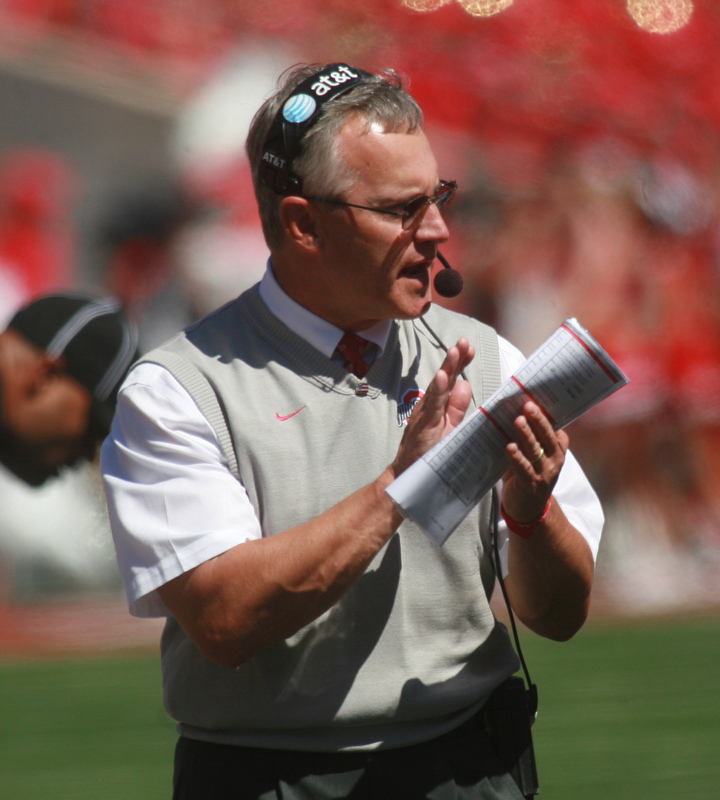 Photo
OSU Head Football Coach Jim Tressel
Ballet Western Reserve is staging the famed work for the first time.
TRACEY D'ASTOLFO
Vindicator Correspondent
YOUNGSTOWN — Saturday is the big day for Jim Tressel.
The Ohio State University football coach will lead the Buckeyes against its hated rival, Michigan.
But the former Youngstown State University coach will also be in Youngstown Saturday — at least in voice, and perhaps, in spirit.
That's when Ballet Western Reserve stages "The Nutcracker," with a pre-recorded narration by Tressel.
"We were trying to bring some celebrity to the production and Anita Lin, being a good friend of Jim Tressel, took the initiative to invite him to narrate," said Richard Dickinson, artistic director of Ballet Western Reserve. "Jim Tressel is a big supporter of the arts and he understands the hard work and discipline it takes to become a dancer. He believes that just like in sports it all depends on your level of commitment, so he immediately said yes — no hesitation whatsoever."
Lin, former artistic director of BWR for 25 years, will also make a guest appearance in the production.
BWR will present its first-ever production of "The Nutcracker" on Saturday at 1 p.m. and 7:30 p.m. at Powers Auditorium.
Tressel recorded the voiceover for the performance in July.
"I have always appreciated the good fortune we have in Youngstown — such great arts, symphony, ballet," said Tressel. "I have lent my support behind the scenes for whatever [was needed]."
This is not his first stint with the Ballet. Tressel also narrated "Peter and the Wolf" for BWR in 1992, with some "prodding."
"Anita [Lin] prompted me every time I was about to speak — literally poked me with a rod. She had said after so many measures I was to speak, and I said 'you are kidding me, right?' So instead she stood behind the curtain and poked me every time I was supposed to speak."
Tressel said this time they made it a little easier on him.
"This time it was done in a studio ...and they will lay it in synch with the music so they don't have to count on my non-musical abilities," he said. "The studio group and Richard [Dickinson] were a lot of fun. They had a lot of fun with my mispronunciations. It's healthy for you to be able to laugh at yourself while doing something outside of your normal area of expertise."
"The Nutcracker" was performed by Ballet Western Reserve once before, in 2001, but under the auspices of the Moscow Ballet. BWR dancers performed the children's roles and the Moscow Ballet filled the remaining roles and provided the sets and costumes.
This year BWR is undertaking the entire production of "The Nutcracker," meaning the dancers, sets, lights, costumes and choreography are all being directed and staged by Dickinson. There are more than 100 people in the cast, ranging from age 3 to adult.
"I'm very excited to be presenting "The Nutcracker" to the community and hope it can become the well-known and beloved holiday tradition it is in other cities around the world," said Dickinson.
The original Nutcracker features a young girl, Clara, who is given a nutcracker by her godfather, Drosselemeyer, for Christmas. She falls asleep and dreams that she defends it against the King of the Mice. The nutcracker then changes into a handsome Prince, who takes her on a fabulous journey. After passing through a snowstorm, they come to the Kingdom of Sweets, where the Sugarplum Fairy honors them with grand dances.
Dickinson said there have been many individual adaptations of the production, and he has adapted BWR's production as well. Dickinson has made Clara a ballet student whose mother was a famous ballerina. Clara brings students from her ballet school to perform for the guests in the Act I party scene. The rest of the ballet follows the traditional production.
Andrea Blankstein and Brian Murphy, who performed leading roles in Cinderella last year, will be returning to perform the roles of the Sugarplum Fairy and her Cavalier, respectively. Former students Charles Turnage, Jens Peterson and Lauren Fekete will also be performing guest roles in the production.
BWR is holding a Nutcracker Sweets Party for children after the matinee performance on Saturday at the BWR studio, about a half-block away. Treats will be served and guests will meet special guests from "The Nutcracker" and take part in hands-on activities.
More like this from vindy.com