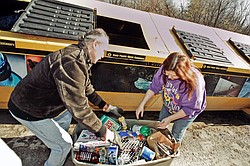 Photo
PITCHING IN --- Paul and Mary Bires of Austintown regularly stop and recycle as they bring in three containers of recyclables to the Austintown Recycling Center on Raccoon Rd.
Green Team calls for year-end tonnage boost
Recycling numbers in the county have not yet exceeded last year's.
Today the Green Team will thank residents, on this year's America Recycles Day.
As director of Mahoning County's recycling division, known as the Green Team, Jim Petuch and others will hand out gift bags, gift cards and other Green Team goodies to a few lucky recyclers at random drop-off sites in the county.
Petuch hopes the small tokens of gratitude will influence others in the area to increase their Earth-friendly habits and recycle more.
"Recycling in the county, as a whole, is stagnant," he said. "And to me, when [recycling rates] are not much higher than last year, it's down."
He said that last year Mahoning County reached its 25 percent recycling quota set by the state. This year, Petuch said, the county has not improved enough to make it past the 195,134 tons recycled in 2007.
To counter a drop in recycling, he and his Green Team colleagues are using America Recycles Day as a final push to boost the county's numbers before the year's end.
A nationally recognized holiday, the 11th annual America Recycles Day sets the date for educational events and the promotion of Earth-friendly habits to people around the country.
"I'm praying, and we're going to work as hard as we can," Petuch said. "We want folks to recycle like they've never recycled before."
But Petuch won't discredit the work the county has done up to this point.
With 42 drop-off sites — where residents can legally dump their glass, plastic, cardboard and paper — and curbside recycling at more than 80,000 homes, Mahoning County is doing a lot to go green.
In the last few years, the Green Team has made other strides to ease the community into intuitive recycling habits.
Free recycling pickup at businesses, instructional programs for pupils, and composting workshops just begin to tell the story of their effort. County litter patrol officers have strengthened efforts to crack down on illegal dumping grounds, and nonviolent offenders are made to clean up trash-strewn streets.
Petuch will even be lecturing on the good deed of recycling during a church service Sunday.
Near to the heart of the team, Petuch said, are the ongoing and increasing efforts to get schoolchildren to do their part. For years, the county has met with educators at local schools to take part in the "Cash for Cans" program, where pupils recycle aluminum containers to earn their school some spending money.
In 2007, pupils at 21 schools recycled more than 13,000 pounds of aluminum, earning a total $9,427.65 for the trash.
Now, with five more schools participating, the Green Team has expanded its outreach with a similar program called "Plastic Recycle Mania" for plastic bottles.
In addition to being free to county residents, recycling efforts have created jobs in the Valley, and have added support to the Youngstown 2010 plan. The plan was conceived six years ago to clean up urban blight, decrease crime and add green space to crumbling neighborhoods.
"Recycling has created full-time jobs that weren't here two years ago," said Petuch, who pointed to Associated Paper Stock's recycling facility in North Lima and an additional complex that will be located in Poland in 2010. That facility will be owned by the Pittsburgh company Recycle Management.
"We want to make recycling a key to development in 2010," he said. "Recycling and the 2010 plan are intimately tied together."
Mayor Jay Williams concurred. "Going greener is one of the components of Youngstown 2010, and there's no better way to show it than by recycling," he said.
Petuch said the few-dozen gifts he and others will be handing out are only an extra incentive to Earth-conscious people in the county, "because they are a part of the global solution to the environment," which he said is the greatest gift.
As for a year-end boost in recycling, he is optimistic.
"The weather's still good [and] it's not that cold outside," he said. "I believe we can still do it. We gotta go big — bring it!"
sschroeder@vindy.com