Romanian's mom appeals for aid in immigration case
The Gilea Deportation

Video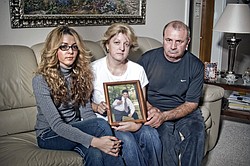 Photo
L-R Bianca, Minerva and Virgil sit together with a photo of their son, Virgil Ciprian "Chip" Gilea.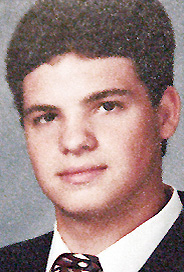 Photo
By Denise Dick
ICE says the agency's position hasn't changed.
BOARDMAN — Virgil and Minerva Gilea came to the United States from Romania on Thanksgiving in 1990, but two weeks before the 18th anniversary of their arrival, they're waiting to learn where their son will spend the holidays.
Virgil Ciprian "Chip" Gilea, 30, was arrested Dec. 27, 2007, by agents from the U.S. Immigration and Customs Enforcement while at work at Energy Development Inc., Poland Township.
"He's stressful," Minerva said. "He doesn't know what's going on."
The problem stemmed from a missed filing deadline by an attorney formerly retained by the family. Chip, a Boardman High School and Youngstown State University graduate, was ordered to leave the country, but both he and his family contend he was unaware of the order.
The previous attorney filed a statement with the court, attesting to his error, but ICE has maintained that Chip has stayed in the U.S. longer than he was permitted and will be deported.
The family believed two weeks ago that deportation was imminent, but Chip still sits in jail in Seneca County, near Toledo.
Abraham Kay, the Cleveland lawyer now representing the family, has asked that the Bureau of Immigration Appeals reopen his case. U.S. Sen. Sherrod Brown of Ohio asked that immigration officials give full consideration to the family's request to reopen the case. The Romanian Embassy in Washington, D.C., also has taken an interest.
Minerva said she has received calls of support from many in the community who want to help.
She asked that people write to the chief counsel's office, asking that her son's case be reopened.
"The holidays are right around the corner," Minerva said. "Why can't they release him on bond or something, let him out?"
Thanksgiving has always been a special time for the family as it marks the couple's arrival on U.S. soil, but they don't know what to expect for the holiday this year, she said.
Their children, Chip, then 15, and Bianca, then 12, followed in 1994.
"How long is going to be the punishment for our family?" Minerva said.
Mike Gilhooly, an ICE spokesman, said the agency's position hasn't changed.
"I can't discuss individual cases, but I can tell you that on that case, nothing has changed," he said.
Kay has said that by rule, the Bureau of Immigration Appeals won't entertain the motion to reopen the case unless ICE joins the motion.
That would be done through ICE's regional chief counsel. Chip's first motion to reopen was denied by the Immigration Court in 2003, and the appeal of the denial was dismissed by the board in 2004.
The Board of Immigration Appeals also denied a second motion to reopen last February.
Virgil's attorneys then filed a motion to reconsider with the Board of Immigration Appeals on Feb. 14, 2008. The board then denied a motion to reconsider last April.
Chip's attorneys at that time then filed a request last June that the chief counsel join in with a motion to reopen. The chief counsel declined. If she changes her mind before Chip is physically removed from the U.S., Kay believes BIA would grant his client's motion to reopen.
If the chief counsel continues to refuse, Chip will be deported and faces a 10-year bar on readmittance to the U.S. despite the fact that an immigrant visa previously filed on his behalf has been approved and would be available in early December.