Piercings keep husband of student out of dances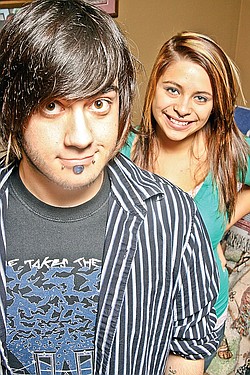 Photo
Casey (19) and Brittney (17) Engstrom of Hubbard are not permitted to go to her school dances together.
HUBBARD — Five pieces of facial jewelry may be all that is stopping a high school senior from attending any school dances with the 19-year-old man she recently married.
Casey Engstrom, 19, graduated from Hubbard High School in 2007. He has since married Brittany, 17, who is still a senior at the high school. The young couple now lives a stone's throw away from the high school with Casey Engstrom's grandmother, but Casey Engstrom will not be permitted to attend any school dances with his new wife. Casey Engstrom has been informed that he is banned from such school functions because of skin-stretching jewelry in his lip and ears.
Though Casey Engstrom, who also is his wife's guardian because she is still a minor, discussed the couple's feelings about the school's decision, Brittany Engstrom chose not to speak to The Vindicator and deferred comment to her husband.
Casey Engstrom said the recent ban from school dances is not the first time his appearance has been called into question by school officials. He said he was forced to remove red streaks and highlights from his hair before attending his own graduation in 2007.
Brittany Engstrom "wondered how things were going to work out now this year with homecoming, prom and Hubbard's strict dress code," Casey Engstrom said.
The dress code in the student handbook states that "wearing pierced jewelry on any other body part than the ear, such as nose, eyebrows, lips and tongue are not permitted."
Casey Engstrom, though no longer bound by the student dress code, spoke to school officials to see if an understanding could be reached on the jewelry that would allow him to escort his wife to the school dances. He offered to remove the jewelry.
Superintendent Richard Buchenic said Brittany Engstrom approached school officials earlier in the year to see if her husband could escort her to school dances and functions.
Buchenic said the school will stand firm on its decision not to allow Casey Engstrom to attend any school dances because of health reasons.
The skin-stretching pieces would leave an open hole in the lip if removed, and removing the jewelry "was not acceptable because fluids could still come out, and I do not want to subject our students to those fluids," he said.
Buchenic said students or any other person would be held to the same standard being imposed on the Engstroms. He said Casey Engstrom will not be permitted to attend those school functions even if the hole in his lip is completely plugged.
Buchenic said the school will uphold its obligation to provide Brittany Engstrom with an education but is not obligated to allow her to attend dances with any particular escort.
"She chose to get married, so this is her decision. Going to dances is a privilege, not a right," Buchenic said. "She could still attend [the dances] with friends."
Casey Engstrom said Buchenic, during their meeting, defined him as living an "alternative" lifestyle.
"That offended me," he said. "I live with my wife and two cats. How alternative is my lifestyle?"
Casey Engstrom has two piercings and a stretching piece in his lip as well as skin-stretching pieces in both ears. Casey Engstrom, who considers himself a "humanist" religiously, said there are religious aspects to the practice.
"I stretched my lip because I always thought it to be an interesting thing to see on a person. Once I tried it, I discovered it requires discipline. I like the discipline," he said.
"This practice has been done worldwide. It's outrageous that it's still being discriminated against."