Girard pupils get a lesson in tolerance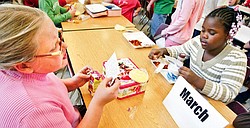 Photo
Girard Intermediate School 4th graders Becca Deal, left, and Khadejah Davidson during mix it up day lunch program. Students sat with students with same month birthdays.
The pupils sat and talked with someone outside their normal circle of friends.
By Harold Gwin
GIRARD — Fourth-graders at Girard Intermediate School mixed it up at lunch Thursday, part of a national effort designed to challenge social and racial boundaries.
They were among some 4 million pupils in more than 10,000 schools across the country participating in the seventh annual Mix It Up at Lunch Day sponsored by the Southern Poverty Law Center through its Teaching Tolerance program.
Children across the country were encouraged to question and cross social boundaries in their school by moving outside their cliques and sitting with someone new in the cafeteria for just one day.
Social boundaries are most obvious in the school cafeteria, but it's also the ideal place for children to tear down those walls and get to know people they might otherwise never meet, according to the center.
In Girard Intermediate's case, the fourth-graders were planning for the day for some time, said elementary school counselor Pam Baker.
They prepared for almost a month, she said, through role-playing and discussions.
Everyone in the six classes of fourth-graders gave the faculty their birthdays and when they entered the cafeteria for lunch, they were directed to a table that corresponded with their birth month.
There, they met others born in that same month and sat with them during lunch, Baker said.
The pupils had prepared lists of questions they would ask to get to know each other, and, they each carried an Eat'n Park Smiley Cookie to present to the person they met, she said.
This was the school's second year to participate in the program, Baker said, noting that about 15 fifth-graders who were involved last year helped serve as facilitators Thursday.
The Teaching Tolerance project offered free posters, brochures and activity booklets to help teachers plan for the event.
The goal is to foster respect and understanding in schools and communities, and some schools use the event to kick off a yearlong exploration of social divisions, according to the center, noting that the program helps build school spirit and unity, raises awareness about social boundaries, helps pupils make new friends and makes pupils feel more comfortable interacting with different kinds of people.
The Southern Poverty Law Center started its Teaching Tolerance program in 1991, and the Mix It Up program began in 2002.
"This year, Mix It Up Day has a special significance because of the historic election of Barack Obama as the first black president," said Samantha Elliott Briggs, director of the center's Mix It Up effort. "Students across America are very excited about doing their part to tear down the walls that divide us."
Baker said she would like to have the fourth, fifth and sixth grades at Girard Intermediate involved next year.
gwin@vindy.com