Show can't go on: Lack of fans nixes concert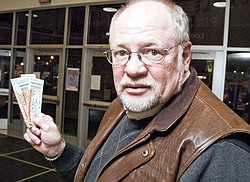 Photo
TICKETS TO NOWHERE: Tim Jablon of Hermitage purchased $2,000 worth of tickets for the Vocal Group Hall of Fame concerts, and when he arrived at the Chevrolet Centre for Sunday night's show he found out his tickets were no good. The final concert in the four-day series was canceled due to a lack of ticket sales. Ticket holders could either be reimbursed or could choose to donate the cost of their ticket to the Vocal Group Hall.
By KATIE SEMINARA
The four-day Vocal Group Hall of Fame series fell way short in ticket sales.
YOUNGSTOWN — Cathy Yeager's first trip to the Chevrolet Centre is one she'll never forget.
"We made the drive and got dressed up," said Yeager, who drove from Mercer, Pa., and was wearing a new shirt for the Vocal Group Hall of Fame's final concert.
But she got dressed up, just to get let down.
Sunday night's Vocal Group Hall of Fame concert was canceled due to a lack of ticket sales.
Thursday night kicked off the four-day event that brought in more than 25 acts.
Each concert was stacked with great performers, but no more than 500 tickets were sold for each night, said Tony Butala, founder of the Vocal Group Hall and lead singer for the Lettermen.
"I could have chosen Florida, but I wanted to bring this to the Valley," Butala said of the reason for having the concerts in Youngstown.
Unfortunately the organization is nonprofit and ticket sales didn't generate enough revenue to fund the last evening of the series.
The show was supposed to be an all-inductee final jam with Tony Orlando.
"I feel bad for the groups who were supposed to perform tonight," said Harold Wilson of Austintown, who had been to every night of the concerts.
"They were just wonderful. It's a shame more people didn't come," he said.
Ticket holders such as Wilson had the choice to be refunded or to donate the money spent on tickets to the Vocal Group Hall. Those who donated money got an original seat handle from the Columbia Theatre and a commemorative handbag.
Artists who were to perform Sunday night hung around and helped ease the cancellation news to their fans.
Though ticket holders didn't see a show, they got autographs and conversed with members from the Zodiacs, the Vandellas, the Association, Jay and the Americans and others.
"We hear a lot of nice things from people," said Annette Beard Helton of the Vandellas.
"It's especially rewarding when you hear people say, 'I remember when I heard your record for the first time,'" she said.
Like the fans, Helton was also disappointed when she heard the concert was being called off.
"There were acts I wanted to meet," she said. "I was having a good time and didn't want it [the series] to end."
Tim Jablon of Hermitage wanted to see some performers from his era and purchased $2,000 worth of tickets for the Friday night and Sunday night shows.
"I gave my secretary the tickets for Friday and I was left with zilch," he said.
"I should have used that money to pay technicians," Jablon said jokingly.
Jablon and his wife, Sherri, were looking forward to the show, but said the cancellation wasn't a huge deal.
"There's a lot going on in the world to get upset over and this isn't one of them," said Sherri.
"But we certainly would have liked to see them."