Animal abuse cases spur call for joint approach
GRAPHIC PHOTOS: Kennel Raid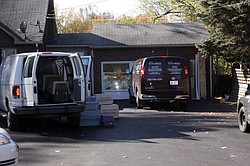 Gallery
The prosecutor said he and the mayor will ask state lawmakers to elevate animal cruelty to a felony.
YOUNGSTOWN — A humane agency's legal misstep after seven dead and 12 starving dogs were found at High Caliber K-9 has renewed efforts for a city-county collaboration to handle animal abuse calls.
Animal Charity's two humane agents, Kyle Ziegler and Joe Borosky, illegally entered the property on Coitsville-Hubbard Road on Oct. 22, according to City Prosecutor Jay Macejko. And, as it turned out, Borosky was not appointed by the mayor to act as a humane agent in the city. As a result, the original 19 animal cruelty charges against the kennel operator were reduced to four.
Macejko said Friday that he spoke to the mayor and they intend to contact state legislators this week in an effort to elevate animal cruelty to a felony. He said 41 states treat the crime as a felony.
The October incident wasn't the first time Animal Charity on South Avenue, Mahoning County's only humane agency, has run into difficulty.
On Aug. 31, 2006, an untold number of dead and 40 starving cats were discovered at a house on Douglas Avenue on the South Side. The man employed by Animal Charity lacked the required humane agent certification and couldn't enter the premises, according to Vindicator files. Also, an animal cruelty charge he filed in Austintown that month was eventually dismissed because he was not certified.
After the Douglas Avenue situation, there was a push to have Mahoning County commissioners and Youngstown officials develop a plan that would ensure qualified humane agents were in place to respond to calls.
Over the past two years, no plan was implemented, Jason Whitehead, Mayor Jay Williams' chief of staff, acknowledged last week. The issue just fell off the radar once the Douglas Avenue emergency was over, he said.
"Police officers handle a volume of calls and to have them be the lead on humane issues — I don't know if we're there yet," Whitehead said. "Our hope has been to have an Animal Charity do it but they seem to be having quite a challenge. They requested and we provided a grant, $17,000, to handle all humane issues regardless of the time of day."
He said the city, with 70,000-plus residents, needs to ensure that animal abuse calls are answered round the clock by those qualified to do the work. Animal Charity, with two workers, lacks the capacity to deal with the volume of calls, he said.
Whitehead said the city is pursuing humane training for a few police officers and wants to have discussions with commissioners and the dog warden's office for a city-county solution. He expects humane agent duties assigned to police officers in the first quarter of 2009.
The city is willing to redirect funds from Animal Charity if a system can be set up to avoid another situation such as High Caliber K-9, Whitehead said. The city isn't talking about leaving Animal Charity out in the cold, but the agency's difficulties in providing consistent response has to be addressed, he said.
Whitehead said Friday that Borosky has still not been appointed as a humane agent by the mayor. The mayor's chief of staff said Nikole Owen, Animal Charity chief executive officer, typically asks for an appointment by sending a letter with the training certificate attached, but that hasn't happened.
Borosky, a part-time police officer in Craig Beach, said he thought his peace officer training qualified him to do humane work and he wasn't aware that he needed the 20-hour course, plus appointment by the mayor and probate court. He said whatever he needs to do will be done by the end of the year.
Owen said Friday that Borosky signed up to take humane agent training in December. She accused The Vindicator of trying to portray Animal Charity in a bad light. "I feel people should be punished, but our first priority is the animals."
Whitehead said he's aware of state law that states a dog warden shall apply to the court of common pleas for an order to enter the premises, and, if necessary, seize a dog being treated inhumanely. He said the county's dog warden, Mike Fox, has focused on licensing and loose dogs.
Fox said deputy dog wardens do check out abuse complaints and if the situation requires immediate attention, they contact a humane agent. He said he was aware that Animal Charity had problems in the past but thought the situation had been corrected.
Fox, when asked about the state law, said his office has not applied for court orders to enter properties and seize dogs.
"That's usually in counties that don't have an active humane agent," he said. "If necessary, yes, we would get a court order to seize dogs. If the humane agent is not responding, then we would respond and apply for an order to seize dogs."
Fox said his four deputy dog wardens carry cell phones and pagers and are available when contacted by police day and night.
Commissioner Anthony Traficanti said deputy dog wardens now carry guns and other changes have taken place, now that Dave Nelson has been promoted to assistant dog warden. The commissioner said more manpower is needed to handle cases of animal cruelty, no doubt about it, but it all comes down to resources, and that's a problem.
He said if Whitehead has suggestions he'd like to hear them and will bring Whitehead in to meet with all three commissioners, the county administrator and Nelson, who once worked for Animal Charity as a humane agent.
meade@vindy.com