Animal abuse cases spur call for joint city-county approach
GRAPHIC PHOTOS: Kennel Raid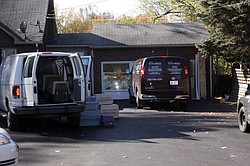 Gallery
YOUNGSTOWN — A humane agency's legal misstep after seven dead and 12 starving dogs were found at High Caliber K-9 has renewed efforts for a city-county collaboration to handle animal abuse calls.
Animal Charity's two humane agents, Kyle Ziegler and Joe Borosky, illegally entered the property on Coitsville-Hubbard Road on Oct. 22, according to City Prosecutor Jay Macejko. And, as it turned out, Borosky was not appointed by the mayor to act as a humane agent in the city. As a result, the original 19 animal cruelty charges against the kennel operator were reduced to four.
Macejko said Friday that he spoke to the mayor and they intend to contact state legislators this week in an effort to elevate animal cruelty to a felony. He said 41 states treat the crime as a felony.
The October incident wasn't the first time Animal Charity on South Avenue, Mahoning County's only humane agency, has run into difficulty.
On Aug. 31, 2006, an untold number of dead and 40 starving cats were discovered at a house on Douglas Avenue on the South Side. The man employed by Animal Charity lacked the required humane agent certification and couldn't enter the premises, according to Vindicator files. Also, an animal cruelty charge he filed in Austintown that month was eventually dismissed because he was not certified.
After the Douglas Avenue situation, there was a push to have Mahoning County commissioners and Youngstown officials develop a plan that would ensure qualified humane agents were in place to respond to calls.
Over the past two years, no plan was implemented, Jason Whitehead, Mayor Jay Williams' chief of staff, acknowledged last week. The issue just fell off the radar once the Douglas Avenue emergency was over, he said.
Read the full story Monday in The Vindicator and on Vindy.com.