---
Thursday, November 6, 2008
Election '08 Behind the Scenes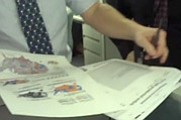 Video
"The Miracle on Front Street"- is how one colleague often describes getting out an edition of The Vindicator.
It's not always requiring a miracle, but it does require plenty of folks having a specific role and knowing how to execute that role. That challenge is even greater on big news nights, such as elections.
Attached is video of some behind-the-scenes activities at The Vindicator Tuesday night as the staff worked to cover the elections.
The video shows only a fraction of the hands involved in the process. We did not get a chance to show off the press, delivery and internet end of our operations. We also did not show off the boxes of pizza that fuel an election night workflow. But enjoy what we are able to show you from the newsroom on Tuesday night.