Schools to revisit revenue option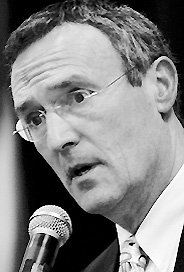 Photo
By Harold Gwin
Open enrollment caused heated debate last spring and could come up again in Austintown.
Voter rejection of a new 4.9-mill, five-year tax levy means the Austintown school board is likely to reconsider open enrollment as a means of finding additional operating revenue for the district.
The school board had talked about open enrollment last spring, with one board member noting that 200 additional kids would bring about $1.1 million in new state revenue, but the issue was dropped when strong taxpayer opposition surfaced.
Open enrollment would allow pupils from other districts to enroll at Austintown, with each applicant approved by the Austintown schools. Opponents said they would rather see a new tax levy and promised to support one if the board pursued that revenue option.
The board decided in May to drop open enrollment and came up with a 4.9-mill levy designed to produce about $3 million a year in new revenue. The issue was rejected on Tuesday's election ballot.
School officials said they needed the levy money to offset a general fund deficit that could reach $3.5 million this fiscal year.
Doug Heuer, superintendent, said the levy will likely be back on the ballot in the spring, but the school board will reconsider open enrollment as well.
Dr. David Ritchie, board president, had said publicly that, if the levy failed, "we'll probably be looking at open enrollment" for next school year.
The district is finalizing its deficit projection and will have to notify the state that it won't end the year in the black. That will result in the appointment of a state fiscal oversight commission that will oversee district finances with the goal of dealing with the immediate deficit and restoring the district to long-term solvency, Heuer said.
That will mean cuts, Heuer said, noting that district transportation could be directly affected.
Austintown now buses 4,200 of its 4,900 pupils, the superintendent said. Transportation to the neighborhood elementary schools could be seriously curtailed because most of the kids live within two miles of their schools, the state minimum transportation mark. High school transportation could be lost altogether as the district isn't required to transport those students at all.
Class sizes could increase and staff and extracurricular activities could be lost, Heuer said.
The district cut spending by $8 million over the last three years by closing one school, cutting teachers, administrators and others and negotiating base pay freezes in employee contracts, he said.
Officials in Youngstown and Warren are breathing easier with levy approvals in their districts.
Youngstown voters approved a four-year, 9.5 mill levy that will generate $5.3 million in new annual revenue, enough to pay off solvency loans Youngstown has had to borrow from the state to balance its budget.
The district has cut $26 million in spending over the last two years, eliminating 450 jobs in the process.
Shelley Murray, school board president, said an additional $2 million in cuts will be announced soon.
The budget has been balanced, short of repaying all of the $25 million borrowed from the state. Only $7.5 million has been repaid so far, and the district will have to borrow about $7 million more this fiscal year.
Youngstown board member Michael Murphy said he wasn't surprised voters passed the levy the fourth time around.
Cuts made by the board were a big factor in winning support, as was the fact that Barack Obama brought out a lot of additional voters, many of whom supported the levy, Murphy said.
Board member Anthony Catale said he was likewise optimistic, figuring this was the election to get it passed. The additional voters offered a "more accurate voice and opinion on the tax levy," he said.
It's not just a win for the schools, but a win for the city as well, he said, explaining that a strong school system is needed for a strong city.
Board member Jacqueline Taylor said the high turnout was the key to the levy passage. The money will pay off the state debt and return the district to a balanced budget, she said, adding, "That's what we're looking forward to."
Angela Lewis, Warren treasurer, said there had been a concern that economic hard times might result in voters not supporting the renewal of an 8.85-mill, five-year levy that generates about $4 million a year for operating expenses. The levy's been in place since 1994 and the public has always been supportive about renewing it, she said.
Superintendent Kathryn Hellweg said there was also a concern that the levy might get lost in a presidential election. If it had failed, it would have been brought up again in the spring, as the current version doesn't expire until November 2009.