McDonald Vs. Western Reserve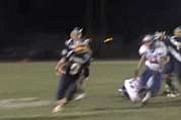 Video
By Steve Ruman
McDonald's trio of running backs has been the key to its season
McDONALD — Based on team statistics, it would appear that the 2008 McDonald football team possesses a vintage grind-it-out style offense. The Blue Devils have racked up nearly 4,000 yards this season, and more than 3,400 of those yards have come via the ground game.
Yet despite the numbers, the Devils don't exactly rely on a Three Yards And A Cloud Of Dust-type rushing attack.
It's more like three backs and a whirlwind of dirt and grass flying in every direction.
The Blue Devils' offense, which is averaging 41 points per game this season, is led by a trio of running backs who have combined to rush for 3,001 yards and 44 touchdowns.
Senior Alex Sampson leads the way with 1,268 yards and 28 touchdowns.
Senior Mikey Thomas has rushed for 884 yards and is averaging 13.4 yards per carry, while junior Nick Cupan has carried the ball 101 times for 849 yards.
McDonald will look to run its record to 12-0 on Friday when it plays Norwalk St. Paul (11-0) in a Division VI Region 21 semifinal contest at Medina's Ken Dukes Stadium. Kickoff is slated for 7:30 p.m.
After logging a perfect regular-season record, McDonald advanced to the second round of the playoffs with a 21-7 win over Western Reserve. In that game, Sampson and Thomas combined to rush for 354 yards and a pair of touchdowns.
Cupan saw limited action after sitting out several weeks due to an injury. However, he is expected to be at full strength for Friday's contest.
"It's a unique situation to have three backs who are all big-play guys," McDonald coach Dan Williams said. "All three have great speed, and they all possess the ability to go the distance at any time.
"The really neat thing about these three players is that they are all so unselfish. They carry out fakes, they block, they do all the little things when the ball isn't in their hands. That's what makes them truly special."
In 2007, Sampson rushed for 1,028 yards and 15 touchdowns for an offense that was much more pass-oriented. Thomas was used strictly as a tight end, where he hauled in 25 passes. Cupan played only on defense.
"Mike and Nick never carried the ball before this year, but during the offseason we knew that we would focus more on our running game this season," Williams said. "In addition to being great runners, these guys are the three best athletes on our roster. We had a feeling they could work well together, but then the summer rolled around and we knew we has something special."
Even though Sampson leads the team in rushing, he has carried the ball far fewer times in '08 than he did a year ago.
And while a decrease in touches might upset some players, that's not the case in this situation. Sampson insists that he and his two rushing partners are "like brothers," and in fact believes the three-back attack has improved his game.
"In most situations, teams key on one specific running back, and if they can shut him down they can slow down an offense," Sampson said. "That's not the case here. Teams can't focus on me, because if they do they'll get burned by Mike and Nick."
"Because of how we spread the ball around, I feel a lot fresher at the end of games. Having three of us share the load has really helped the entire team."
Because of his size and strength, Sampson (5-11, 195) has generally been the go-to guy in short-yardage situations near the goal line. As a result, he has far more touchdowns than his two counterparts. Meanwhile, Thomas is averaging an area-best 13.4 yards-per-carry.
Despite Thomas' eye-opening stat, he too doesn't believe that he is being short-changed when it comes to the number of carries he receives per game.
"I sometimes joke with the coaches that I didn't get double-digit carries, but they know I'm just kidding around," Thomas said. "In reality, I love blocking for the other guys. It never gets old. The yardage is secondary to me behind the wins."
"Let's put it this way. I'd much rather be 11-0 and where I'm at offensively than to be sitting at home right now with huge individual stats."
As for the upcoming playoff game, the Blue Devils will face a St. Paul team that has outscored opponents 566-79. While Sampson believes the contest "will provide our toughest test of the year," he knows his team will up to the challenge.
"We've never back down from a challenge. In fact, we seem to thrive in pressure situations," Sampson said. "In week four when we were down 12-0 to Wellsville, I looked around and no one was worried. I sensed that the team knew it was going to come back, and that was the moment I knew this was a special team."
Thomas echoed the comments made by Sampson, but added that he believes the Blue Devils still must attend to unfinished business.
"At the start of the season, we set goals of going 10-0, winning a league title and going deep into the playoffs," Thomas said. "So far it's been a perfect season, but we still believe we can keep it going."
The winner of Friday's game will face either Hopewell-Louden or Mogadore in the Region 21 title game.