On 4th try, Youngstown school levy passes
Election Night

Gallery
Election Night Nov. 4, 2008
Mahoning County: Election Night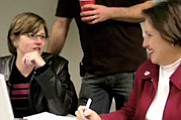 Video
By Harold Gwin
Despite the approval, Youngstown school officials say there are more cuts coming. In Niles, voters approved a bond issue.
YOUNGSTOWN — "Now we can get back to the business of educating students."
That's how Dr. Wendy Webb, Youngstown superintendent of schools, summarized the results of Tuesday's vote on a four-year, 9.5-mill tax levy approved by voters.
The unofficial margin of victory was 53 to 47 percent.
"We still have about $2 million more in cuts," said Shelley Murray, president of the Youngstown Board of Education.
The board has trimmed spending by $26 million and promised more reductions, even if the levy passed, Murray said, noting that those cuts are being finalized now.
It took four times for voters to approve the levy that first appeared on the ballot in November 2006 when the district ran a $15 million general fund deficit.
Scott Schulick, levy committee chairman, said voters got the message that a strong economy depends on a strong school system.
Youngstown has borrowed $25 million from the state solvency loan fund to balance its last two budgets and is faced with another $10 million deficit this year. The levy will produce about $5.3 million annually in new revenue with about half of that amount being realized this school year.
That would mean borrowing about $7 million from the state, said Bill Johnson, district treasurer, adding that the levy revenue should return the district to solvency within a few years.
Voters in Niles approved a bond issue to help finance the construction of three new buildings, the third time the issue was put before them.
The unofficial margin of victory was 58 percent to 41 percent.
Superintendent Rocco Adduci said the planning stage for the new facilities (two elementaries and a high school) will now begin and should take about a year, and the new buildings should be completed in three years.
The 5.3 mills approved by voters will generate about $20 million, with $18 million for construction and the rest for maintenance and facility upgrades.
In Austintown, voters rejected a new 4.9-mill levy to offset a $3.5 million budget deficit with 48 percent voting yes and 52 percent voting no. School officials have warned that some programs, including pupil transportation, could be cut.
gwin@vindy.com