Mathews coach will not seek re-employment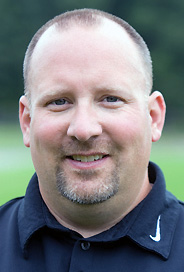 Photo
By Steve Ruman
He's led the Mustangs to three conference titles and two playoff appearances.
After leading the Mathews football program to its most successful multi-year run in school history, Jim Parry is calling it quits.
Parry on Monday announced he will not seek re-employment as the Mustangs' head coach for the 2009-10 school year. The announcement comes just one week after Mathews wrapped up a 6-4 season, which earned them a share of the East Suburban Conference title. After losing four of their first five games, the Mustangs ended the season with five consecutive wins.
During Parry's seven-year stint at the school, Mathews posted a 39-33 record, including a 35-17 mark since 2004. In addition to guiding the Mustangs to three conference championships, Parry led the program to its first-ever 10-0 season (2007) and its only two playoff appearances (2005, 2007).
When Mathews posted a 7-3 record in 2004, it marked the first time in school history that the Mustangs had won as many as seven games in a single season.
The only other Mathews coach to enjoy a career winning record was Pete Simpson, though he led the program for just one season. In 1997, the Simpson-led Mustangs were 6-3.
"I'm extremely proud of the progress we made since I first arrived at the school," Parry said. "When we went 7-3 in 2004, it was groundbreaking for the program, and that season sort of set the tone for the next few years.
"The playoff appearances were very exciting, and the undefeated season was special from beginning to end. The school records that were established are something that those kids will cherish for the rest of their lives."
In addition to his success on the playing field, Parry said he is especially proud of the way the program has grown during his seven-year stint.
"We struggled to field a team when I first arrived," Parry said. "We were able to get kids to buy into what we were doing, our numbers increased, and the program really turned into a source of pride for the school and the community. More than the wins, that's what I'll remember about my time here."
Parry said his choice to leave the program wasn't based on any particular issue.
"After seven years, I just thought the time had come to try something else down the road," Parry said.
"Whether that means coaching at another school or staying involved in football in another capacity, I honestly don't really know."
While Parry insists that he does not expect to be roaming the sidelines next fall, he stopped short of ruling out a quick return.
"I don't foresee myself coaching next year, but if something caught my eye I'd take a look," Parry said. "I could see myself taking a year or two off, but at the same time, if an opportunity came up, I'll take notice. I still have the same passion for the game I've always had."
Parry becomes the second Trumbull County coach in eight days to announce his resignation. Last week, Champion coach John Gibson informed the school that he would not seek a renewal of his contract.