Early Voters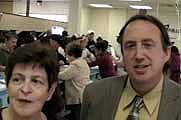 Video
Limit your wait by getting to the polls at the right time, an election official says.
YOUNGSTOWN — When it comes to today's presidential election, area election officials have two words of advice: Be patient.
There's a very good chance those voting today at their polling places will stand in line waiting to cast ballots, the election officials say.
But if everything goes smoothly — something the election officials expect — the wait shouldn't be too long, they say.
The longest waits, about an hour or so, will be at busy polling locations at peak times, they say.
But the election officials offer a strategy for those who want to reduce the waiting time.
Avoid going to the polls when they first open, at lunch time and after dinner, said Jeff Greenburg, director of Mercer County's Bureau of Registration and Elections.
The polls are open from 6:30 a.m. to 7:30 p.m. in Ohio and from 7 a.m. to 8 p.m. in Pennsylvania.
"There should be no line mid-morning, around 10 a.m., or mid-afternoon, around 3 p.m.," he said.
The lines were long at the Mahoning and Trumbull counties boards of elections Monday, the last day for no-fault early voting in Ohio.
Every registered voter in Ohio had the option of voting by mail or at a county elections board office during the past 35 days, said Thomas McCabe, Mahoning County elections director.
The wait at the Mahoning County Board of Elections was up to an hour with about 2,500 voting early Monday.
The wait was shorter in Trumbull County, where about 1,000 voted Monday.
Victoria Rusu, 21, of Austintown, a Youngstown State University student, waited in line for about 25 minutes Monday.
Rusu, a volunteer for Democratic Barack Obama's presidential campaign, said she had no time until Monday to vote early.
"I don't want to worry about it [today] because I want to be able to work and make sure people know where to vote," she said.
Rusu, voting in her first presidential election, will be on the YSU campus making sure people get to the polls today.
"We are making history," she said. "It's the most excited I've seen people."
James White, 43, of Youngstown, waited for more than 30 minutes Monday at the Mahoning elections board.
"I was going to wait till [today], but I realized I wouldn't have time," he said.
"It's worth it," he said of waiting in line.
For Mary Lou Carbon, 65, of Poland, early voting Monday was easier than waiting for today.
Carbon said she would need to drive her mother, Phil Pelly, 88, to her polling place in Youngstown.
"Rather than waiting in two lines [today], I thought I'd wait in one line" Monday, she said.
When Carbon found out she and her mother could both vote at the elections board, and Pelly would have somewhere to sit while waiting, she decided to take advantage of early voting.
"She wants to vote," said Carbon of her mother. "This is just more efficient. Why go to two places?"
Close to 50,000 in Mahoning County took advantage of early voting at the elections board office or through mail, McCabe said.
More than 25,000 voted early in Trumbull County, said Kelly Pallante, its elections director.
Those are records for both counties, they said.
Pallante, McCabe and Greenburg said their counties are prepared for today's election.
All of the electronic touch-screen voting machines were tested and are ready for use today, they said.
"We're pretty confident there won't be problems," McCabe said.
Pallante added that she is also "confident it will go smoothly."
"All of the machines were checked, and the testing came out very good," Greenburg said.
skolnick@vindy.com
kseminara@vindy.com